Confession time: I used to hate offering contests on my website.
Why?
Because they took so much time.  At the end of the contest, I'd write every entry on a piece of paper, cut the names into individual squares, put them in a box and call my granddaughter to come pull a name for me.
Archaic, right?
Then my pal, Rogenna, author and blog guru, told me about Rafflecopter. Believe it or not, I managed to set this up on my website–with a little help from my computer guru, David Newberry. Last month's drawing was a breeze. Rafflecopter picked the winner. Her name, coincidentally, was Rogenna. 🙂

So, May's Contest is now up and running. (Click HERE to go to the contest page.)
I don't know how it works, but it does. And one of the great prizes, I'm pleased and excited to offer is a copy of
Love Me Some Cowboy

, the soon-to-be-released 5-book compilation from five of my favorite authors: Lisa Mondello, Barbara McMahon, Jean Brashear (who is up for 2 Ritas this year), Ginger Chambers and Day Leclaire (who is up for her 13th Rita this year).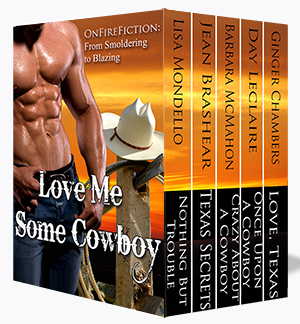 The winner will also get any book in my 
Screw Senility!

series, PLUS a 

$25 Amazon

gift card!
So what are you waiting for? Sign up now. Your chances are a whole lot better than the lottery–and it's free to enter.
Deb
PS: If you'd like to share your special story of cowboy love, come on over to Goodreads. We've got a chat going on!