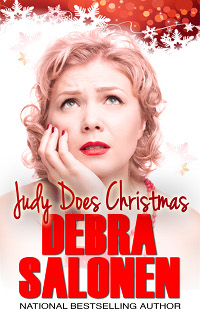 Judy Does Christmas
Judy Banger's happily-ever-after marriage faces its first big hurdle: her hubby's Mother of all Holiday Parties.
Judy Banger has a secret. She's no fan of Christmas. She's suffered through fifty-four of them and, too late, she discovers she's married to Wiley "Santa Claus" Canby. In four short months of marriage, Judy and Wiley have crossed off more items on their bucket list than most people do in four years. But, now it's December, and Wiley wants to throw a big, blow-out holiday party to show off his new wife. Unfortunately, Judy's never hosted a gala party in her life–especially not one that includes a cross-section of friends and family that would make Modern Family look like the Waltons.
What could possibly go wrong?
CHAPTER 1
Judy Banger-Canby studied the glittery array of tiny bottles carefully. The color she picked would own her ass for the next week–possibly the most important week of her life. A full seven days of merry holiday hell.
"Just pick one, Judy. Manicures are supposed to be fun and relaxing. You're frowning like there's going to be a test."
Prudence O'Riley, Judy's best friend in the world, didn't get it. Day Four of this coming week was The Party. In effect, a Pop Quiz, SATs and oral dissertation all rolled into one.
Pru reached around her and snatched Violet Champagne from the rack. "This one. Come on. Joseph's already poured our wine."
Judy followed as obediently as a well-trained spaniel…if such a thing existed. She'd been reading everything she could find on dog breeds because she'd made up her mind to buy Wiley a puppy for Christmas. Unfortunately, she'd also read about the horrors of puppy mills and the desperate lack of loving homes for shelter dogs. The choice, neatly wrapped in a guilt bow, added to the liter of stomach acid in her mid-section.
"Wine? I've been abstaining…watching my weight and all that, but…what the heck."
She'd been diligent about avoiding the hidden calories in beverages lately–especially alcohol, but this mani-pedi at GlamGals was Pru's Christmas gift to her. Judy had no intention of ruining their first quality time in much too long by adhering to a diet.
Once her feet were immersed in a hot, frothing mini-whirlpool and the full-size massage chair started kneading the tension from her mid back, Judy heaved a sigh. "This is great, Pru. Just what the doctor ordered."
Doctor. Damn. She forgot to call and make an appointment. Again. Now that she'd officially been added to Wiley's insurance, she had no excuse not to get that all-important check-up he kept bugging her about.
After I lose ten more pounds. What kind of masochist started a diet in mid-December?
"How many people have RSVPed to the Party…Of…The…Century?" Pru asked, using the worst professional wrestling announcer voice ever.
The residual Sauvignon Blanc taste in Judy's mouth turned sour. "Thirty-eight of Wiley's closest friends. Most of whom I have never met. Doesn't that sound delightful?"
"They're just people, Judy."
People who would judge the woman who dared to marry the town's most eligible bachelor, Judge Wiley Canby. She threw back what was left in her glass like a shot of tequila and let out a burp. "I know I'm overreacting, but I can't seem to put the brakes on crazy. This kind of party is sooo outside my comfort zone."
"So hire a party planner. I'd volunteer if I wasn't up to my eyeballs busy with Sexcapades."
Judy studied her friend's profile. They may have been roughly the same age–fifty-four–but Pru looked ten years younger. And by all reports Pru–or Rhu, as she was known at Judy's new stepson's popular sex club in southern California–was a BDSM force of nature.
"Wiley is meeting with a caterer as we speak. I figured hiring someone this last minute would be impossible, but turns out his late wife's best friend who owned a successful restaurant in Phoenix has just moved back to town after a horrible divorce. Wiley's her first client." And nothing about that whole scenario made Judy feel good. Nothing. She hadn't even met the woman and she didn't like her. Proving, of course, that she was losing her mind.
"Just promise me you'll be here for the party, Pru. I have to know at least one person there likes me."
Pru turned her chin and opened one eye. "I'll be there. The boys are hiring a limo. Fletcher has class…and expensive taste. Good thing the club is making money hand over hand."
Judy started to correct her pal's faux pas until she saw Pru's lascivious wink. Damn. When did I get so stuck in the mud I can't tell naughty innuendo from a slip of the tongue? No pun intended.
She sighed and let her head fall against the padded cushion. "I really needed this."
"Yes, you did. You look exhausted. If this is married life, I might have to stay single forever."
Judy could have explained that hers and Wiley's honeymoon had been heavenly–every day a new adventure, every night pure bliss. One night near Jackson Hole, Wyoming, their connubial bliss had left Judy convinced she and Wiley were old souls reunited on their final journey before reaching Enlightenment.
Now, in the cold light of day, with the heavy green and red storm clouds of Christmas looming, she felt stupid for being so gullible. Her so-called soul mate had morphed into a stranger in a crimson fleece cap who went around humming "I'm Dreaming of a White Christmas."
"Fill 'er up, Joseph," Judy said to the cross-dressing diva with purple hair and the longest, curliest fake eyelashes she'd ever seen. "Whatcha doing next Friday? Wanna come to a party?"
He poured the cheap wine with such panache it percolated over the rim of her glass to dribble across Judy's fingers. "Oh, girlfriend, I'd love to. You know I've always had a thing for your handsome hubby's handsome son, but the rest of those stuck up so-and-sos would kill my holiday mojo faster than a Fox Noise marathon."
Wasn't that the truth? Judy thought. Her holiday mojo, if such a beast existed, definitely belonged on the endangered species list. But she worried most about how her marriage of four months would weather the profound disappointment Wiley was bound to feel after his great expectations crashed and burned at the holiday party from hell.
~~~
Wiley took a deep breath before turning for the doorknob. "Here goes nothing," he said, yanking hard.
A burst of cool air laden with the scent of pine, dust and cinnamon flooded his senses, bringing a rush of nostalgia and a flood of memories.
He flipped the two overhead light switches and paused, partly out of reverence, partly out of reluctance. Once he opened this Pandora's box, he'd be fully committed to the holidays–and all the baggage that word brought with it.
Normally, he wouldn't have thought twice about the work and fuss that went into decorating a twenty-eight hundred square foot house with the accumulated lifetime of decorations–his late wife's lifetime–contained in this room, but that was before Judy. Only the most obtuse moron in the world would have missed the billboard-size clues his new wife had been giving him regarding her opinion of the holiday season.
Take a few weeks earlier when he hung up the phone and told her, "Judy, I rented a pick-up truck for the Friday after Thanksgiving so we can drive to the Christmas tree lot and pick out our tree." A time-honored ritual he and Fletcher had adhered to even after Julie's death.
"Say what?" his normally gung-ho wife had cried. "On Black Friday? Are you nuts? No offense, but there isn't a tree in this entire town that could lure me out of the cozy, peaceful comfort of my home on the most hectic shopping day of the year. I usually spend the day baking. Wait till you taste my Southern Crack. No pun intended," she'd added with a playful wink. "The recipe is really called Terribly Terrific Toffee. I can think of a bunch of fun things to do while it's cooling…if you get my drift."
He did, of course. And staying home to play with melted chocolate turned out to be worth breaking tradition. But when he'd brought up the idea of tree shopping a day or two later, picturing them holding hands as they wandered along the wood chip rows amid the heady smell of fresh pine, Judy had uttered the blasphemous suggestion they dig her hand-me-down, pre-lit artificial tree out of storage.
The couple that never fought had their first spat.
"You're kidding right? I get the fake tree concept. Julie has three ready to go in the Christmas Closet at home, but we still bought a fresh tree every year, too. What's Christmas without the smell of pine?"
Judy had gaped as if he'd sprouted a second head, complete with a crown of thorns. "You decorate four trees? Without a gun to your head?"
"The artificial trees are already decorated."
"Ok. That's cool. A bit over-the-top, but everybody's got their own quirky traditions. Me? I buy a pine-scented candle and call it good. But if you have your heart set on a live tree, go for it. Just make sure it's a small one, okay?"
"So much for tradition," he muttered, staring at three walls of specially built shelves stacked with the huge plastic bins labeled in Julie's neat, flowery script. After her accident, Christmas had become an eleven-month project that she kept track of on an Excel spreadsheet.
Even as her health had declined, she'd remained adamant about keeping certain parts of her life in perfect order. "It gives me peace to visualize everything in its place," she told him once when he asked why it took four days to put things away after the holidays.
Wiley hadn't started out as a holiday enthusiast but sitting on the sidelines never worked with Julie. Plus, she'd made it easy to script the annual setup by never taking down the three, elaborately decorated artificial trees, which stood shrouded in specially sewn white cotton cloaks. Wiley called them the "wise men."
He could almost hear Julie counsel him to, "Set up the wise men first, and the rest just falls into place."
He shook off the faint ghost of Christmas past. His job had been to move the big trees into place so Julie could orchestrate the rest of the decorating around them. He planned to do that today before his newly hired caterer and her crew arrived.
"Hello, boys," he said, grabbing the green and red dolly. "Ready for another big show? I gotta warn you, fellas, it's going to be your last."
He'd already contacted the heads of three group homes for at-risk juveniles about taking the big, pre-lit and decorated trees. They would have taken them this year if not for Wiley's desire to host one last holiday party for all his old friends. His house was on the market, but he hadn't had any serious bites. His realtor claimed the combination of a "soft" market and the fact he didn't live in the house anymore made it a tough sale.
Wiley wasn't sure he believed that, but he planned to drop the price in January and sell all the leftover furnishings at auction. He and Judy had moved the few furniture pieces that seemed to work in their new condo. Either she didn't care for his late wives' tastes, or she didn't want too many reminders of the past to corrupt their new life together.
Funny how stuff had become less important since he met Judy, he thought.
Wiley didn't have any regrets about getting rid of the accumulated clutter that meant nothing to him. What he didn't understand was Judy's refusal to even look in this room.
"Call me Ms. Grinch," she'd said, blocking the door with her luscious body the first time he tried to show her the room. "December is the month I live to survive. It's bad enough stores start putting out Christmas crap the day after Halloween. I'll pass on viewing your late wife's addiction to the red and the green."
Addiction? Wiley preferred to call it her passion. For a woman who made love with her entire soul, Judy should have been able to appreciate the commitment and dedication Julie gave to her hobby. But, obviously, that wasn't the case.
Wiley chose the tree labeled Foyer to move first. The weighted base housed a musical turntable that played half a dozen songs in a tinny, music box tone. Of all the decorations, this tree was his favorite.
"Of course you love this tree, you big softie," Julie said once. "Most of the ornaments came from your mother and grandmother. It speaks to your fondness for nostalgia."
Maybe that explained his love of Christmas and the whole holiday season. The rest of the year he was too busy with work and routine to think about the past.
He hummed a carol under his breath as he pushed the handcart through the hallway, hunching over slightly since the top of the tree brushed the ceiling unless one kept the cart at an angle.
Finally, after a few grunts and a curse or two, he lowered the base to the barely discernable star on the tile Julie had made with a felt tip pen the Christmas before her death. His eyes misted over a second. He halfway imagined her hand on his shoulder.
He shook off the eerie feeling, unwound the cord from the base and plugged it into the electrical outlet. He needed a four-foot ladder–also conveniently housed in the Christmas Closet–to unsnap the specially designed shroud. A dozen or so snaps later and the cotton fabric melted to the ground like warm snow.
Emotions surged, as they did every year, when he stepped back and flipped the power switch. Tiny white lights twinkled with well-remembered joy. "It's beginning to look a lot like Christmas" began to play as the whole tree shivered once then slowly turned, showing off the hundred or so ornaments the family had collected over the years.
His throat tightened and he sniffed back the emotion that threatened to undermine his masculinity. Good thing Judy wasn't here to see him embarrass himself. He didn't understand the source of her holiday bias, but he had no doubt this year would be different. For one thing, they were married. And happy. How could their love for each other not solidify all the more in this most joyous of holiday seasons?
He glanced at his watch. The party planner he'd hired was due to arrive any minute. She'd promised to bring along a decorating crew. With Julie's game plan in hand, they would have the whole house decorated by the time Judy returned from her outing with Prudence.
Wiley couldn't wait to see her reaction.