HAPPY BOOK BIRTHDAY (MONTH) to TWO new Box Sets!
'Tis that time of year again for mistletoe wishes and candy cane kisses.

Can one festive holiday reunite estranged lovers, ignite unexpected relationships, heal old hurts, and bring joy to aching hearts? Probably not. But love can. And in the hands of these nine award-winning/bestselling authors, the reason for the season might just be: Romance.

Risking It All by Kathryn Shay
This woman is driving me crazy. She had it out for me when I was a recruit and focused on all my flaws; I couldn't help but return the favor by needling her every chance I got. Now, we're working side-by-side teaching recruits and suddenly, I'm determined to have her! Damn it, that woman is ruining my favorite season of all—Christmas.

Unexpected Gift by Chantel Rhondeau
Cali Johnson makes my heart race in ways I never thought it could, and I find myself hoping for a very Merry Christmas this year. Not only is she kind to everyone she sees, she even befriended my cantankerous old cat—and he doesn't like anyone. There's just one problem… no one could accept the truth I'm hiding, no matter how nice and sweet they are.

The Marine's Last Chance Christmas by Rogenna Brewer
Home for the holidays sounded sweet until I looked across my recruiting desk into the eyes of the woman I'd loved and lost––mostly thanks to my own stupidity. Who knows? Maybe the Sugar Plum Fairy will grant me one last chance for Christmas.

Texas Christmas Bride by Jean Brashear
For seventeen years after I was banished, I tried to forget her. The empire I built means nothing to the joy of being with her again. All I want for Christmas is to marry her, to be together forever as two teenagers once planned—if only the son I never knew about will forgive both of us and let us be a family at last.

Christmas for the Win by Debra Salonen
Is it crazy to ask for help from the woman I left at the altar eight years ago? Absolutely. But I'll do anything for my son, and the Alexa I knew and loved would never turn away a child in crisis—especially at Christmas. Though it's wishful thinking to expect that Alexa could ever forgive me.

Grown-Up Christmas Wish by Lisa Mondello
The gloves…well, mittens, are off. I'm in Montana on leave from the military to battle a real estate auctioneer about to sell my childhood memories to the highest bidder. I get that Sally Macomber needs the commission to start a life back east, but with a little snow, some small-town holiday spirit, and my grandfather's sleigh, I can earn enough to be top bidder. Too bad as the December 24th deadline nears, my Christmas list now has just one name on it: Sally.

A Family of His Own by Karen Sandler
I came from less than nothing, but I got lucky. Wrote a few books, became a mega-bestselling thriller author. Despite my success, I know what it's like to hit rock bottom like Jana has, pregnant and abandoned by her low-life boyfriend. I know she needs me to be her sanctuary, especially this Christmas. But how do I hide the feelings I've always had for her?

Mr. and Mrs. Claus by Day and Dre Leclaire
I'm a man intent on forging my own path through life, refusing to join my father's firm no matter the temptations offered. But Dad plays dirty, especially when he sends an adorable, klutzy Christmas elf to tempt me back into the fold. One Santa-sized problem… I want her to stay, but she has to go.

A Soldier's Christmas by Barbara McMahon
I'm only in town for the wedding and to pick up my dog that Cassie has been taking care of while I was deployed. As soon as the "I do's" are done, I'll be outta here. So, would somebody please explain why Cassie's invitation to spend the holiday with her has me longing for the impossible? Maybe I'll find my answer under the mistletoe.
&
With Love Montana: Big Sky Mavericks and Friends (Tule Publishing) Kindle Edition
Escape to the romance and adventure of Montana in nine novels set in small-town Marietta. Slip into a world where people look out for each other, and falling in love means working together to overcome all obstacles.
BOOK 1: Montana Cowgirl

Bailey Jenkins is back in town.
Fifteen years ago, I loved her with every ounce of my being…and hated her just as passionately for what she did. But this beautiful, broken stranger isn't the same cocky rodeo queen who left Marietta with such big dreams. I might be the only friend she has in this small town with a long memory. A friend. Nothing more. And absolutely no benefits. Still, there's no denying the connection between us. A single touch of her hand proved that.
BOOK 2: Montana Cowboy
All hat, no cowboy? Bite me.
I know what my hometown thinks—Austen Zabrinski deserved getting knocked down a notch or two after that scandal in Helena. But I'm a Big Sky Maverck and I'll fly high again after the political dust settles. And how better to kill time than make friends with my new neighbor? The gal they're calling Marietta's "Red Hot Llama Mama." Nothing serious, of course. Just a little here-today-gone-to-Helena-tomorrow fun.
BOOK 3: Montana Darling
Love at first sight is a myth. Right? Like BigFoot, only prettier…
People look at me and see a vagrant living in a tent beside the Marietta River. Just ask Mia Zabrinski, who blew into my camp with fire in her eyes and legal threats tumbling past her gorgeous, perfect lips. For the first time in months…well, since my beautiful Colette and our baby died, I can feel my creative juices starting to flow—along with an unexpected jolt of lust. Unfortunately, prickly attorney Mia seems more interested in making war than love—range war.
BOOK 4: Montana Maverick
If Santa was a woman…and wore snowshoes…
I'll admit flying a helicopter in a blizzard wasn't a great idea. But watching my grandbaby burn up with a fever while gasping for air wasn't an option. I figured it was all over when we went down, but then an angel in snowshoes came to our rescue. Meg Z of all people. The woman the Press labeled my "archenemy." Like hell. She saved us, and I'm going to return the favor by giving her something she doesn't even know she needs: a family. My family. And me.
BOOK 5: Montana Gift
The untold—till now—story of OC Jenkins
So, my wife of forty years tells me she's going to write our life story—even the bad sh…stuff. And lord knows there was plenty of that. Booze. Fights. Grief. Remorse. Why anyone would want to read about this is beyond me, but everyone in Marietta knows I can't say no to Louise. After all, she saved me too many times to remember…but, now, you can read all about it just in time for Christmas. Tell your friends: Town Drunk Redeemed.
BOOK 6: Montana Miracle
A dog, a pastor, and an ex-con walk into a church…No, it's not a joke.
The calendar is clicking down to December 25. The best possible travel day for a guy like me. No family gathered 'round a tree opening gifts. No friends expecting me for a big ham dinner. No sticky strings attached…except for a stupid dog that doesn't understand the command: "Go away." And a beautiful but nosy pastor who claims I'm a "miracle in the making." For a smart lady, Pastor Sam Zabrinski, sure picked the wrong ex-con to play Joseph in her living créche. Husband to Mary? Father to the infant Christ child? Pul…lease. I was a dad once. Briefly. And it didn't end well. Only a freakin' holiday miracle could reunite me with my daughter. And that's about as likely to happen as Pastor Sam falling for a sinner like me.
BOOK 7: Her Hero to Love
Once burned. Twice wary.
Let's be clear. I'm nobody's hero. I tried that once. I failed. And I've got the recurring nightmares to prove it. So, when my little brother mentioned a Search and Rescue job opening in Marietta, Montana, I jumped in with both feet—just like they teach you in SmokeJumper School. Too bad nobody mentioned Kat Robinson, my scorching hot co-worker—a single mom with an autistic son. Whatever this crazy attraction is between us, I'm keeping a safe distance—for everyone's sake.

BOOK 8: Her Rogue to Tame
Roommates with benefits. Who could possibly get hurt?

"Get your Zip On" – That's the slogan for the new zip line I'm building near Marietta, Montana. Correction: was building. My dream is on hold until I'm back on my feet. I can't work on the mountain, but I sure as heck can hobble well enough to accept gorgeous, New York City outcast Amanda Heller's offer: supervise the restoration of her grandmother's old Victorian while sharing the property's guest house. I'm an ex-Chippendales dancer, so I know sizzle when I feel it, and I predict a quick fling in my future—a month or two tops. Which everyone knows isn't long enough for a rogue like me to fall in love.
BOOK 9: Her Rebel to Kiss
Don't look down and don't give up.

That's not a bumper sticker saying, it's my credo for living. My SmokeJumper brothers, Flynn and Tucker, claim my off-season climbing career is too risky. I argued otherwise until…well, I walked away. Now, there's no going back. Luckily, I've landed a great job in the same town where my best friends have fallen in love with the women of their dreams. Settling down always seemed more daunting than Everest until I kissed a mysterious lady in red on New Year's Eve at the Big Sky Mavericks' Masked Ball. I know it sounds crazy, but what are two star-crossed lovers supposed to do when one kiss isn't enough?
Readers love these books:
"This novel had everything, family drama, love, a little bit of sexy and a lot of heart." – GertyP, Amazon
"Great story from start to finish." – Nanee at upallnightreadallday.blogspot.com
"What an absolutely remarkable novel. Salonen weaves a tale of love, loss, and triumph like no other. Her fluid writing and vivid descriptions bring Montana to life for readers. This insightful story weaves together life's ups and downs in a very touching manner. Salonen is definitely an author who stirs your emotions. She had me laughing like crazy, crying with a broken heart, and left me filled with hope and joy." – Pure Jonel, Goodreads
"…a refreshing romance, featuring characters that are "mature" (39 and 49) and an interesting path to an HEA." Amazon review
"This has to be one of the sweetest, most heart-warming stories I've read." Cindy F., Amazon
"Montana Miracle is a special holiday treat. It emphasizes the goodness of people and that we all deserve a second chance at happiness." Rosemary, Amazon
Buy this 9-book box set for just 99¢ at AMAZON,
or Read for FREE with your Kindle Unlimited subscription.
---
Head's up: SMALL TOWNS BIG HEARTS is starting it's final 90 days! Don't miss out.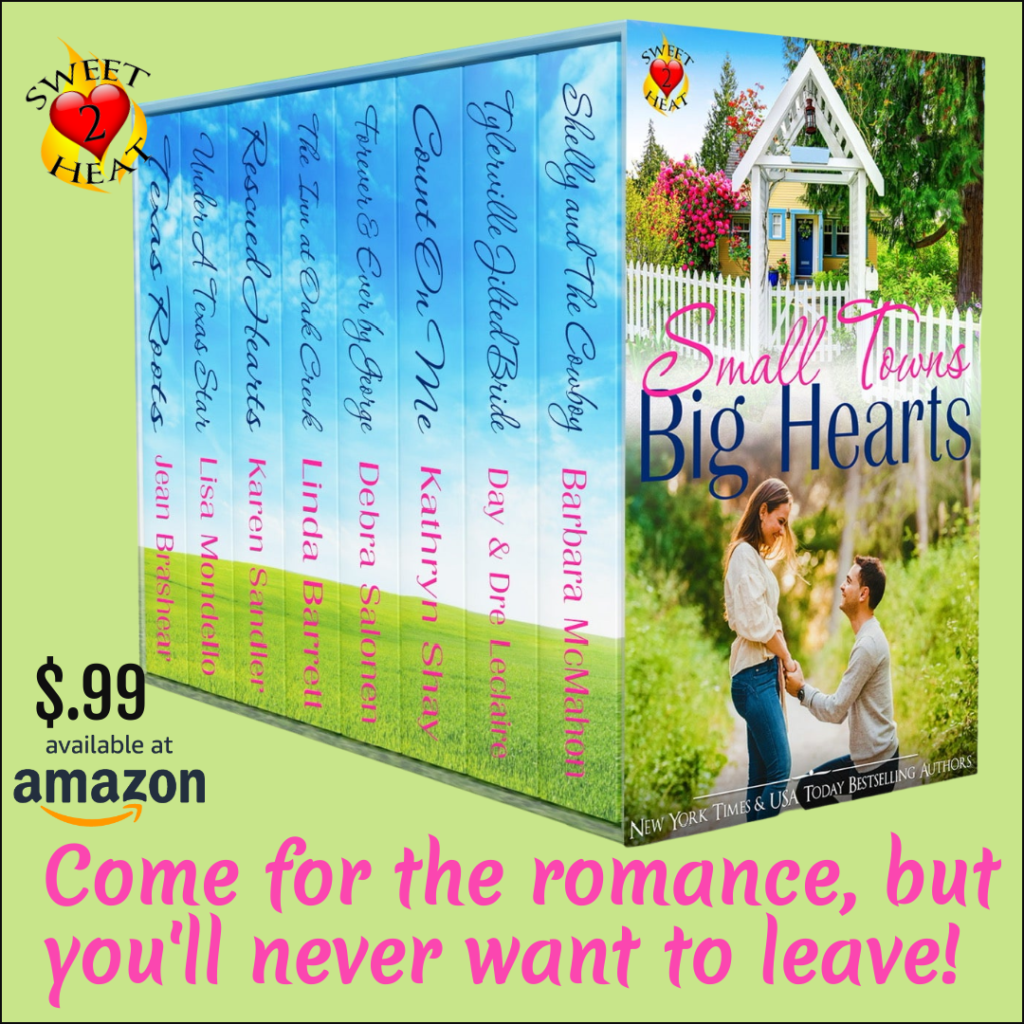 Download SMALL TOWNS BIG HEARTS and step into eight, unique, small town settings crafted by New York Times, USAToday, and bestselling authors. Come for the romance, but you'll never want to leave!
Buy this 8-book box set for just $.99 at AMAZON Or Read for FREE with your Kindle Unlimited subscription
Remember: please leave your kind reviews at GOODREADS and/or BOOKBUB!
---
Although I hate to rush the season, I don't want you to miss out on this seasonal box set.
Ask anybody and they'll tell you, it's never the mistletoe that brings people together—it's what's in your heart.

The six holiday stories in this box set cross the spectrum from friends-to-lovers to enemies-to-lovers, but both stories address the question: how far would you go for the sake of a child/twins? An Opposites Attract story connects a recluse with a publicist—polar opposites who find common ground in a copper bathtub beside a roaring fireplace. A second chance reunion gives a runaway groom a do-over with the love of his life…with a little help from the "rein-ponies." A later-in-life romance will resonate with readers who are ready to downsize the holidays–without a divorce. And a reunion novella connects two people who met as children and never forgot that mystical–some might say "angelic"–connection. As a gift, read Debra's touching short story: A HUNDRED YEARS OR MORE. Keep a hanky handy.

THE RANCHER'S AND THE WIDOW'S FIRST CHRISTMAS: "The Rancher's and the Widow's First Christmas is a sweet, emotion packed, heartwarming, inspirational, small-town romance. You will probably need tissues as Sam and Jenny try to make sense of a world without Josh. This well written book will keep you engaged while tugging your heartstrings. I could not put it down!"

CALEB'S CHRISTMAS WISH: "This is a story of loss, grieving, and life changing events. 4 year old Caleb's parents are killed in an accident and his Godparents who have never met have been called in to take responsibility for him and help him through a difficult time. Add an ill Grandmother who recently lost her husband and now her child and is now worried that she will lose the only link (Caleb) to both. Very well written, emotional and thought provoking. Totally enjoyed this book."

BLACK HILLS SECRET SANTA: "This was a witty and touching story. Rufus has a great sense of humor for a reclusive yeti-man. Rachel was wonderful in how she struggled with discovering her true self – out from under her controlling mother and cheating ex. All of the secondary characters added to the story and made me wish that Sentinel Pass was a real town I could visit – or move to."

CHRISTMAS FOR THE WIN: "Brilliantly written and loaded with large family connections, A… tear-worthy, feel-good story with compelling characters! The suspense is palpable and romance is sweet. A little psychic magic really adds to the mix!"

HER CHRISTMAS ANGEL – "This quick read packs the magic that is Christmas. Love, Kindness, Faith, and Generosity are showcased. How a simple gift touches another person and made such a big impact on both parties."

JUDY DOES CHRISTMAS – "Debra knocked it out of the park with Judy Banger and how she feels about Christmas. Women of any age can appreciate and relate to Judy, especially those of us who are over 50, overweight, and a bit insecure. This book will keep you laughing, crying, and laughing again to the very end. I love Judy Banger and what she's taught me. She is courage in a slightly overweight form. You will want to read this one a couple of times."
Click here:
&
Still available: LOVE IN THE HEART OF GOLD COUNTRY!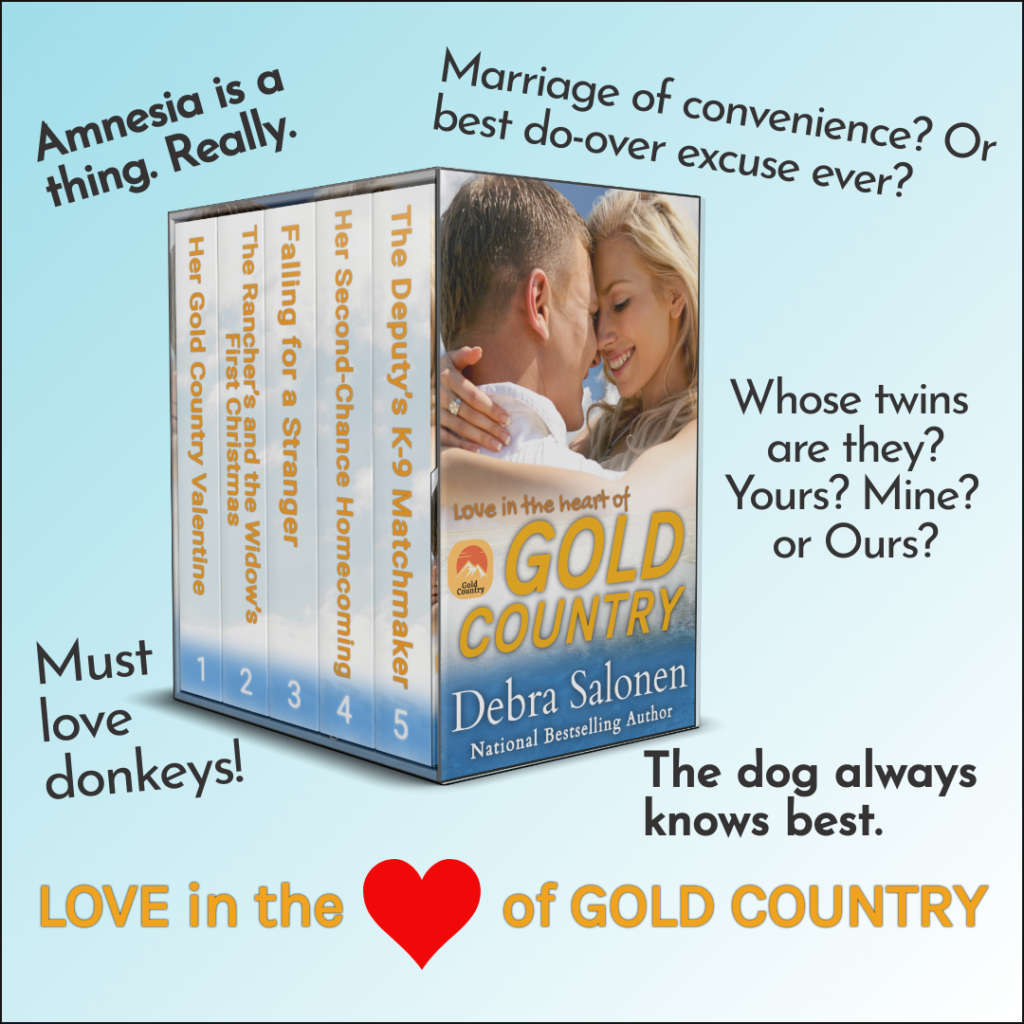 &
Do you love WEST COAST HAPPILY EVER AFTER'S new cover as much as I do? I hope you'll give the box set a try. It was my first to release as a complete box set and it will be the first to leave the market. Grab it here: Amazon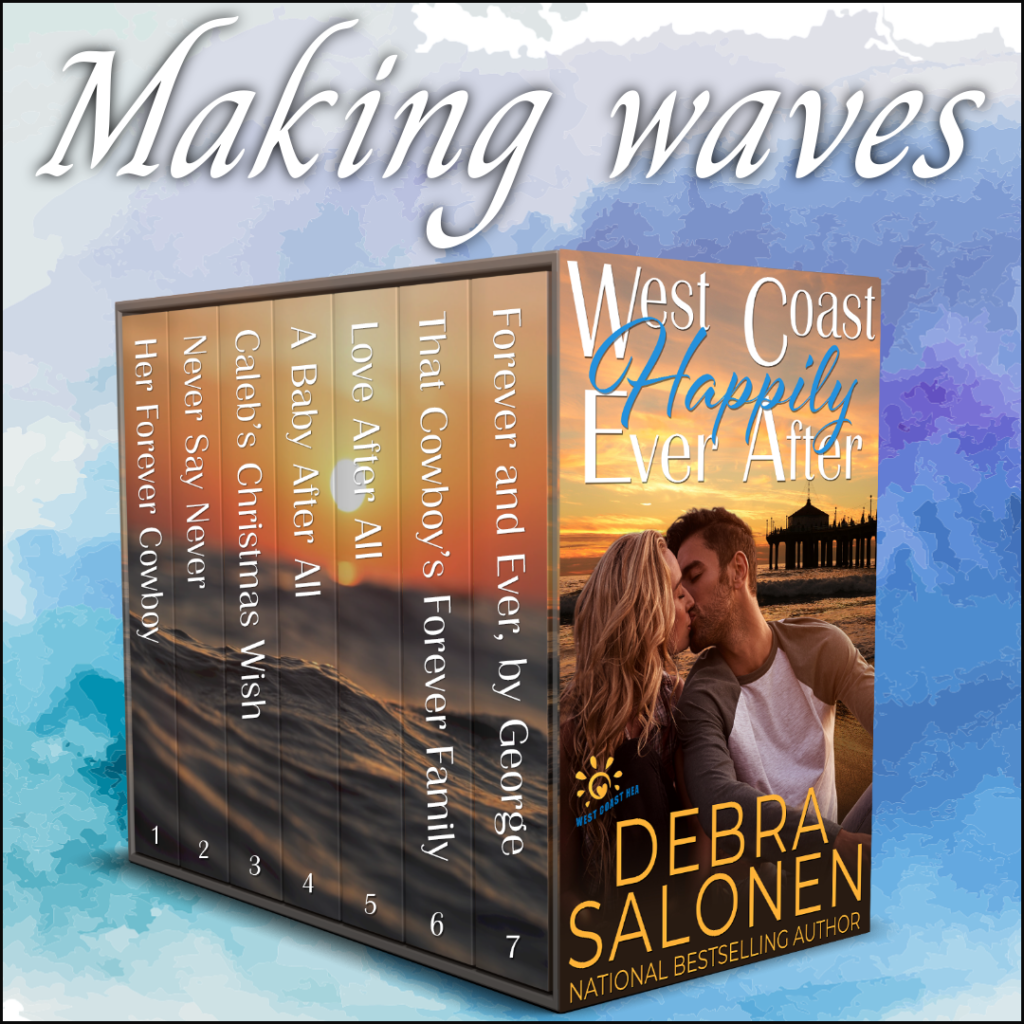 Check out my new cover for Going All In On Love: a four book romantic suspense series set in Las Vegas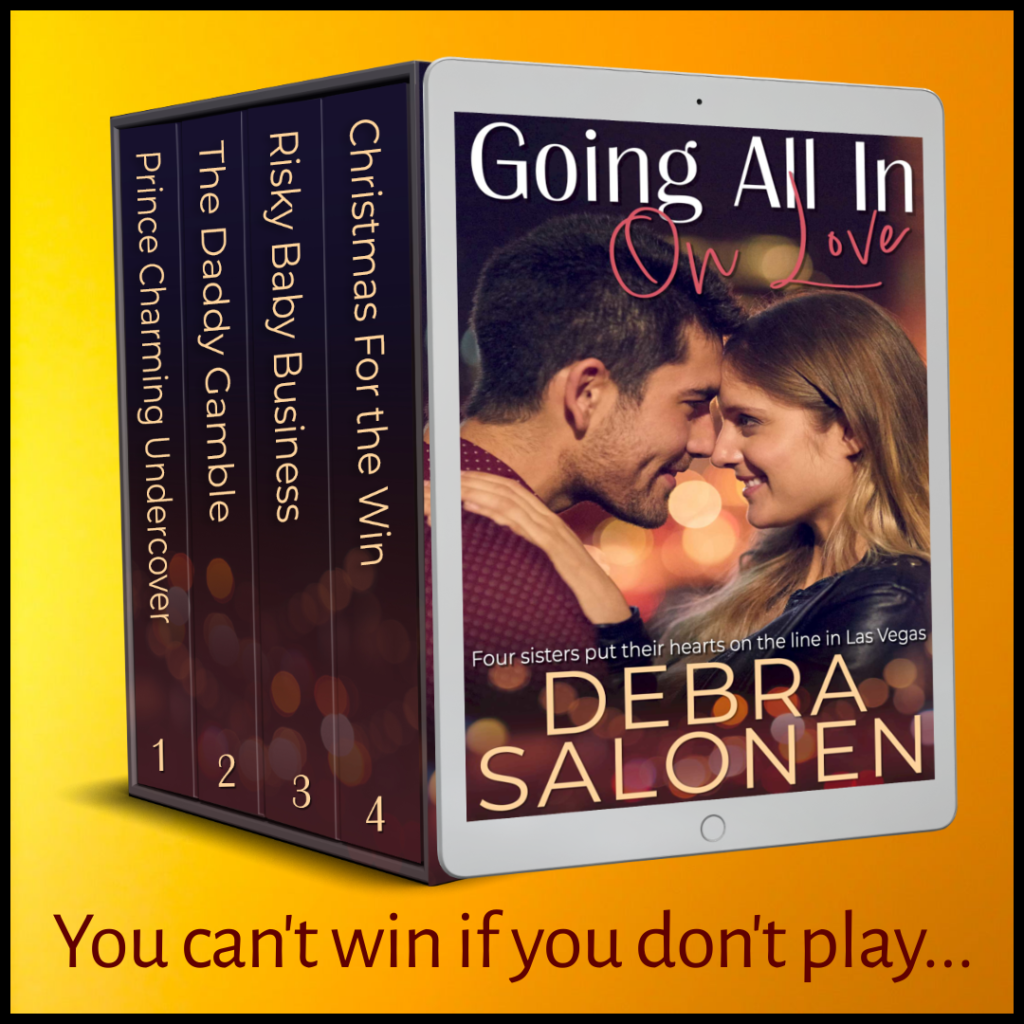 Thanks for dropping by! Readers are my favorite kinds of friends. Reach out any time. Are you signed up for my newsletter? 😉 We just got home from Destin, Florida. Wanna see the pics? Guess where in the world we're going next.
Happy reading, Deb
Please note: As an Amazon Associate, I earn from qualifying purchases.