BLACK HILLS OUTCAST
"Black HillsRendezvous, Bk VI"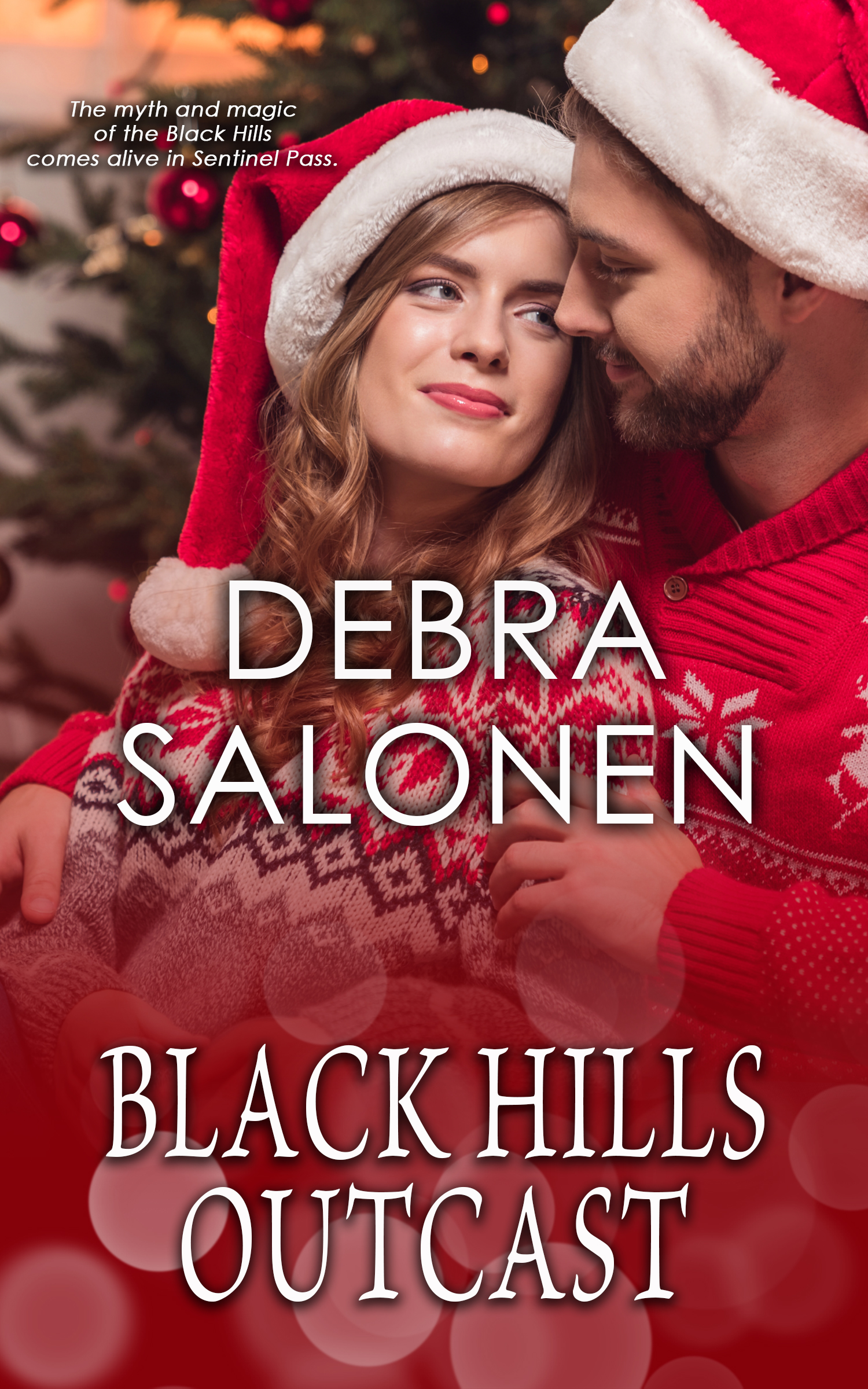 Man up and come out of hiding—or the dream dies.

As the dreaded holidays approach, Rufus Miller breaks his golden rule: silence. Sentinel Pass's resident recluse may be a social outcast with rusty people skills, but with his late brother's legacy hanging in the balance, he'll try anything to sell his Dream Houses—the rustic, three-dimensional "dream catchers" he creates from branches and bark. To fully engage the Christmas market, he requires a marketing ninja. Rachel Grey drives a Porsche and dresses like a runway model who made a wrong turn at Denver, but her positivity could woo a hermit crab from its shell. Maybe she's the answer to a wish he's never allowed himself to make.

Is her new client a living, breathing Sasquatch—or Santa Claus in the making?

Rachel Grey's career re-boot in the Black Hills of South Dakota requires a big, splashy marketing campaign. Discovering this year's "must have" Christmas gift—a novel, one-of-a-kind sort of "wishing jar" to hold secrets, hopes and dreams written on rolled slips of paper—could be just the ticket. Convincing backwoods artisan and self-imposed outcast Rufus Miller to shed his disguise and rejoin humanity brings unexpected benefits—like falling in love. Until Rufus's past—and true identity—threatens to ruin everything.

Black Hills Outcast is Book 6 in the 12-book Black Hills Rendezvous series. If you're a fan of deeply emotional stories that make you smile through your tears, you'll fall in love with Debra Salonen's wounded hero fighting to keep his dream alive and the woman who rescues him while inadvertently opening the door to his past.

Lovers of holiday romances won't want to miss Black Hills Outcast—where a bit of Christmas magic reminds two lost souls that love is the reason for the season.

Black Hills Outcast available here:
Q&A With Debra
What prompted you to write this book?
Way back in the very first "Black Hills Rendezvous" book, BLACK HILLS BABY, a gruff, enigmatic figure appeared for a brief walk-on. Most readers probably missed him completely, but I never forgot about Rufus—even though I knew absolutely nothing about him. In a way, his transformation from monosyllabic backwoodsman to the hero of this book is a bit like the story of "Beauty and the Beast." Rufus's entire persona is meant to keep people at bay. Finding the inner hero beneath a bushy beard and layers of plaid wool is the mark of a truly fine heroine, don't you agree? And I knew the minute I met Rachel Grey—Jack Treadwell's feisty, independent sister from BLACK HILLS BAD BOY—that she was up to the task.
Chapter 1
"Sell the Porsche."

Rachel Grey clutched her chest theatrically. "Mother, I'd sell you into white slavery before I'd sell the Porsche. It's the only thing I took away from my marriage. A marriage you pushed for, I might add."

"The fact that you and Trevor never found the common ground necessary to make your marriage a success is not my fault." Rosaline Treadwell, a recently retired bank V.P., was a master at passing the buck. "The car is completely impractical."

Rachel crossed her arms in a way her mother would recognize from the many childish rebellions Rachel had fought—and lost—over the years. She wasn't losing this one—childish or not. "That's what I like best about it."

"Forty thousand dollars could provide you with enough of a cushion that you could stay in Denver and find a real job. You wouldn't be reduced to working as a clerk in a tourist trap." Mom made a sweeping, all-encompassing gesture that would have caused Rachel to die of embarrassment if the establishment's owner, Char Jones, had been present.

"Native Arts isn't a tourist trap. It's more an art gallery than a store. The local artists are amazing and I love working here. The energy is…electrifying."

Rosaline would never be so crass as to roll her eyes in public, but Rachel knew her mother had no interest in, or respect for, the creative process. A fact played out in Rachel's senior year of high school when she earned entrance to a prestigious design school on the west coast.

Rachel's take-away from the month-long battle that followed? The person whose hand controlled the purse strings had the most pull.

"The nature of this business isn't the point, is it, Mother?" Rachel asked, shifting impatiently from one well-broken-in UGG boot to the other. "Even retail might be acceptable if the high-end designer boutique were back home, right?" She didn't wait for an answer. "Please don't take this the wrong way, Mother, but I'm moving to the Black Hills to get away from Denver."

"Away from me."

Rachel heaved a sigh and shook her head. "I knew you'd take it the wrong way. Mom, I need a fresh start, a clean break. Why can't you see that and support my decision—even if it's wrong? Just this once."

Her mother's carefully painted lips pressed together in a way Rachel knew all too well. Rosaline Treadwell would have made a fabulous wartime general. "Never lose sight of your goal," she'd admonished so often in Rachel's childhood, Rachel had threatened to have it engraved on her mother's tombstone. What Rosaline couldn't understand was she and her daughter had different ideas about what constituted a goal.

Mom held up one perfectly manicured hand and listed her complaints, finger by finger. "You're moving to a new state with no job, no real home and only a vague idea of what you want to do with your life. I'm supposed to be happy about that?"

"And a forty-thousand-dollar sports car," Rachel added, unable to stop herself.

"In the dead of winter." Mom shook her head in that why-won't-people-just-do-what-I-say way Rachel hated. "I honestly don't understand you, Rachel. Are you certain you don't want to try therapy?"

That subject had been covered at length in a recent e-mail that had included links to several outpatient clinics in the greater Denver area and one in Taos, New Mexico—so no one from the bank would hear about her daughter's collapse, Rachel assumed.

Rachel didn't bother trying to repress her sigh. "I'll make you a deal, Mom. If Sentinel Pass doesn't work out—if I'm flat broke and miserable a year from now—I'll move home and see any doctor you want. Okay?"

"A year? Will that give you long enough to meet a man? Maybe an actor from that silly TV show, Sentinel Passtime? My friends think you've become addicted to the glamorous lifestyle you had with Trevor and can't give it up. They think you're here to meet a movie star."

Rachel's shudder came from deep inside. "Are those the same friends who pushed you to introduce me and Trevor in the first place? I promise you I'm done with pretty boy prima donnas." She paused. "Wait. Can a man be a prima donna? Wouldn't that make him a prima Donald?"

Her mother's slow, dramatic inhale made Rachel rush to get back on topic. "Mom, I married superficial charm once in my life, and once was enough. If I ever fall in love again, it's going to be with a plain, down-to-earth, what-you-see-is-what-you-get kind of man. Homely, hook-nose, bald, whatever. Looks only count in advertising. I learned that the hard way."

Her mother didn't seem convinced, but she set aside the topic of love and returned to the one of location. "Please explain why you chose this town, Rachel. A flash-in-the-pan overnight sensation. I know you and your brother are close, and I will admit that Kat has grown on me. I understand your wanting to help plan their wedding, but surely you can do that from Denver."

I could, but that's not the point. "Mom, face it. There's nothing for me in Denver. The big, beautiful house that Trevor was so quick to get listed on the celebrity home tour is as good as sold. Thanks to the crazy economy, my dependable accounting job is history. Last hired, first fired." A job her mother got for her and Rachel had never really liked, although she had, toward the end of her employment, found ways to make it her own.

Rosaline didn't reply.

"I like this place. I like the people. I love my future sister-in-law and her sons. I can't wait to be part of the Wine, Women and Words book club. Char is a gas. We bonded when she came back from her trip to California, and I feel as though we have a true friendship blossoming. I need that, Mom."

"Fine. Do what you want. You always have."

It took every bit of self-control Rachel possessed not to scream, "What are you talking about? I usually do what you want. And always have."

Rachel wasn't sure what was fueling her current rebellion. Maybe Jack's unexpected, too-early-for-mid-life crisis was contagious. Her straight-arrow, look-before-you-leap brother shocked everyone when he bought a motorcycle, rode to the Black Hills and fell in love with Kat, a single mom with two sons.

Rachel felt a little sheepish trailing after her big brother this way, but Jack knew about her secret dream to open her own Web design and online marketing company. Probably a foolish plan given the fact she lacked any real training or experience, but she'd dabbled in Web design for years. In fact, the mock-up she'd done for Trevor the day after they met at her mother's big charity golf event had impressed him so much he'd asked her out. He claimed to have been blown away by her innate ability to grasp the inner Trevor Grey. The man behind the public persona.

She'd been flattered. He'd played to her ego and swept her off her feet. When he asked her to marry him, her instincts told her to slow down and see how they gelled over time. But her mother had berated Rachel's cold feet. "Only a fool would pass up a fine catch like Trevor Grey," Mom had said.

So, Rachel ignored her misgivings and let herself become swept away by the energy and craziness of planning her own wedding. For weeks afterward, her mother walked around with a copy of InStyle's Celebrity Bridal edition to show people.

Unfortunately, Trevor wasn't good at math. He didn't understand that one plus one was supposed equal two, not three or four or as many meaningless trysts as he wanted. Besides feeling angry and humiliated, Rachel slowly came to realize her self-confidence had suffered the biggest blow. She'd failed to trust her instincts. What if she made the same mistake again?

That mistrust was one reason she was moving away from Denver. Away from her mother. Mom had made it clear a long time ago how much stock she put in creative endeavors. The less she knew about Rachel's future plans the better. For now, Jack agreed to let Mom believe that Rachel was here temporarily to plan his wedding and do some fill-in jobs until Jack's new dental office was up and running.

"I need to start setting out the Christmas displays," she said, gesturing toward a stack of boxes. "And you don't want to get caught in traffic when you reach Denver, right? Drive carefully and call me when you get home, okay?"

Rachel could tell there was more that her mother wanted to say, but Rosaline managed to contain herself by pressing her lips together for several seconds before she gave Rachel a quick, perfunctory hug then walked away.

Rosaline paused at the door of her Cadillac Seville but didn't wave at Rachel. Instead, she scowled at Rachel's small, midnight blue payoff for a quick, quiet divorce.

Her mother was right, of course. They both knew it. Rachel would have been smart to sell the car months ago. But as long as she was driving the Porsche she could pretend that she'd come out of her marriage ahead. That her spirit was strong and vital like the perfectly tuned engine under the sleek, sexy hood. That she wasn't damaged goods, someone to be pitied. Or worse, such a lousy wife she couldn't keep a husband.

If Rachel were a bigger person, she would have admitted that she'd listed the car online last week and had several very promising responses, including one from a guy in Denver. She planned to meet him next week when she returned home to finish packing her stuff. A trip her mother knew nothing about.

Rachel felt an uncomfortable pressure on her chest as she watched the Caddie pull out of the gravel parking lot onto the highway. Bad daughter, she silently castigated. But she had her reasons for keeping mum on both subjects.

For one, if her mother knew exactly how precarious Rachel's finances were, Rosaline would have felt compelled to offer Rachel a loan. Or worse, an advance on her inheritance. Either way, the money would have been one more blow to Rachel's pride.

Secondly, Rachel didn't want her plans to interfere with Rosaline's golf getaway to Florida. With any luck, Mom would be so charmed by the weather, she'd become a snowbird like several of her friends. Which probably sounded like a terrible thing for a daughter to think, but, at the moment, distance sounded like the best way to keep her mother out of her business.

Am I crazy to risk everything on an unproven business in a remote corner of the world? Mom would certainly say so. But Rachel knew that the Internet didn't care where you lived, if you were good at your job.

But am I any good? That remained to be seen.

She could crunch numbers with the best of them, but could she blend that left-brain functionality with her right hemisphere's love of art, color and composition?

She fished a bright, glossy business card out of the front pocket of her jeans. WebHead—Designed to Sell, Rachel Treadwell Grey, Owner. She would have given one to her mother if she thought for a moment that Mom would have been happy for her.

Despite their differences, Rachel loved her mother, and wishing things were different between them was a waste of effort. She set her card on the counter, intending to leave it by the register for Char after she finished unpacking the dozen or so boxes.

She grabbed the retractable box cutter and was poised to slice into the largest of the designated boxes when her cell phone started playing "Red, Red Wine" —the ring tone she'd given Char.

"Hi. How's Spearfish?"

Char had gone to the northern Hills town to register for classes at Black Hills State College. "It would be better if I'd called first—as you suggested. The Registrar's Office is closed for Thanksgiving break, for heaven's sake. What's wrong with me?"

Rachel smiled. "You're excited about starting a new phase of your life. I understand completely since I'm doing the same thing."

"That's true. And thanks to whatever magic you made happen on my Native Arts' Web site, I can afford to do that." Char's online sales had doubled from this time last year. An indicator Rachel hoped meant she was on the right track, career-wise.

"So, are you coming straight back?"

"No. Damien and Eli and I are going to hike to the top of Bear Butte for a picnic."

Rachel leaned sideways to look out the large picture window at the front of the store. A small amount of snow remained in piles near the edge of the highway, but the bright winter sun seemed to hold a special sparkle. "Cool. Some might say chilly."

"Some already have," Char returned, a laugh in her voice. "Damien is such a California kid. His blood hasn't had time to acclimate, but Eli bought him some new boots and heavy wool socks. He'll be fine."

They talked a few minutes longer about the holiday displays before Char said, "I hear the pounding of size eleven footsteps. Do whatever you want, Rae. I trust you."

Rachel's throat squeezed tight. "Thanks. I—"

"Gotta run. See you later this afternoon."

Rachel allowed herself a brief moment to savor Char's praise then she pocketed her phone and got to work. It was one thing to claim you had an eye for design but quite another to actually make the idea in your mind come to life in the space and time allotted.

The Internet was her medium of choice, but she believed in the power of word of mouth. If she did a fantastic and original job on these displays for Char, word would get around. It might be nice to snag a celebrity client or two as her mother had suggested, but the person she most wanted to work for was a reclusive, natural mediums artist named Rufus Miller.

Jack's fiancée, Kat Petroski, had one of Miller's rustic birdhouses on her deck. Made entirely of scraps of wood, moss, bark, pebbles and other objects found in nature, the compact, whimsical piece spoke to Rachel in a way she didn't quite understand. She had yet to meet the man behind the birdhouses, but if what Kat said was true, Rufus's birdhouses were the mere tip of the iceberg where his talent was concerned.

All she had to do was wrangle an invitation to meet the shy recluse. Oh…and buy a four-wheel-drive vehicle to get up the mountain to reach his remote cabin. His one-of-a-kind art wouldn't make either of them rich, but she didn't care. Rich wasn't everything it was cracked up to be—not when it came with a huge emotional price tag.

After opening the flaps of the first box, she dug through a sea of packing peanuts to withdraw a five-inch, banana-shaped hunk of newsprint. She unwrapped the figurine with care.

"Nice," she exclaimed, palming the raku-fired ceramic Wise Man.

She let the packaging material drop to the floor as she examined the piece. Dark, earthy colors with a copper hue that added a hint of the exotic. She set it on the glass shelf to her right then eagerly dug into the box to find the rest of the crèche. Each figure was another masterpiece.

She was so engrossed in her mission of discovery she nearly missed the ding-dong sound announcing the arrival of a customer. "I'll be right with you," she hollered.

Muttering under her breath, she glanced at the grouping of holy figurines and shook her head. "Mary? Joseph? Where's your baby?"

Bending over, she pawed elbow-deep through the box until her fingers closed around something small and solid. "Aha," she cried. "I found Him."

She straightened, lifting her arm overhead triumphantly. Her hold on the holy infant faltered the instant she realized her customer was a towering monolith of a man with a bushy mop of a beard that seemed to start an inch or so below his fiercely intense gray-blue eyes. His thick, unruly hair—the color of weathered straw—seemed to possess a life of its own, except in the places where his hat had tamed it. A fleece-lined red plaid hat with ear flaps that he held crushed to the chest of his hazardous-waste-material orange jacket. His leather gloves were probably fourteen sizes larger than the pair in her purse.

Rachel lowered her hand until it was level with her face. "I found Jesus."

A man who could pass for Bigfoot's younger brother might be common in Sentinel Pass, but the city-girl part of her brain was releasing boatloads of adrenaline along with the sage advice: run. Her toes gripped the insides of her boots. Her knees quivered. But her legs didn't move. Not even when the colorful giant threw back his head and started to laugh.

A name flashed into her head. Rufus Miller. She didn't know why. No one had described him as lumbering and hirsute.

No…it couldn't be. Her white-knuckle grip on the beatifically smiling infant lessened. "Um…uh…hi. My name is Rachel Grey. You wouldn't by any chance be Rufus Miller, would you?"

It took Rufus a minute to get his laughter under control. He didn't have cause to laugh very often, but the expression on this pretty young woman's face—part triumph, part terror—seemed a very fitting culmination of the changes that had taken place in his world over the past few months. His days of peaceful obscurity were over. He needed to make a living again.

Again being the operative word. He'd socked away plenty of money at the time of his premature retirement. Unfortunately, a series of bad investments at the hands of a man he'd trusted had changed things. He and his dogs wouldn't starve anytime soon, but he couldn't keep funding the cause nearest and dearest to his heart if he didn't start bringing in some cash. Sooner, rather than later.

He ignored the woman's question. He'd seen that "Hey, I recognize you" look a thousand times if not more. "Aren't you the model from the Calvin Klein ad?" they'd ask, touching his arm, his lapel, even his derriere, as if seeing his bare skin in print gave them some kind of ownership.

"Is Char here?" He didn't know the owner of Native Arts well, but her distinctive hair color, which seemed to change on a whim, made her pretty hard to miss. He appreciated individualism. The woman in front of him was a bit too chic—despite the scruffy boots—to qualify as different. What did she say her name was? Rachel Grey? Why did that sound familiar?

"No. Char's gone today. I'm filling in and crafting some holiday displays." She waggled the ceramic piece she'd been holding like an atomizer of Mace.

Rufus glanced around. She'd either just started or she was really bad at her job.

As if hearing his critique, she quickly disposed of the small figurine and stepped around the debris. She held out her hand. "You are Rufus, aren't you? I e-mailed you, but Char said you're somewhat hit-and-miss with the Internet. I was hoping to talk to you about revamping your online presence. To up your sales."

It took him a moment to get his head—his ego—back in the present. This wasn't about R.J. Milne, semi-naked underwear model. The man he'd been in another life. This was about his current persona. Rufus Miller, backwoods loner-turned-businessman.

"Um…"

"Your pre-holiday sales," she added. "Something we'd have to jump on right away so you can get the most bang for your buck." She cringed and quickly apologized. "Forgive the cliché, but I didn't have time to think about my presentation beyond the rough draft stage. Of course, I could and will give you a more complete analysis of your marketing needs after we've talked."

His palms started to sweat and his throat shrunk to a pinhole. What she was suggesting had already crossed his mind. In fact, he'd decided only that morning to invest in a Web site and try to take his sales to the next level.

In theory.

He'd known that would mean inviting the outside world back into his life. He simply hadn't expected the outside world to arrive as a tsunami surfed by a beautiful stranger. A woman who…. "Wait. Your name is Rachel?"

She blinked her long, pretty eyelashes. "Yes."

"Kat's Rachel?"

Her smile looked relieved. "Yes. Kat is marrying my brother, Jack. You're coming to the wedding, aren't you? I saw your name on the guest list. I could have waited to approach you then with my sales pitch, but since the wedding is four days after Christmas, I figured that wouldn't do either of us any good, would it?"

He shook his head, aware of her quick survey. He gave her credit for not appearing too repelled. He'd cultivated this disguise for a reason—it kept people at arm's length. It didn't seem to work with her.

"You are coming, right? I don't remember seeing your RSVP."

He liked Kat. She'd been the first to see the potential in his hobby and had encouraged him to sell his birdhouses on craigslist and eBay. She was the perfect kind of friend for someone like him—too busy with her own life to be all that interested in his. But he had no intention of attending a wedding. God, no.

"Kat told me a while ago that Char might sell some of my birdhouses. On consignment."

She used the side of her finger to rub the tip of her nose. A stalling tactic, he realized. "I'm sure she would and I would be happy to give her cell phone a try, but she said something about hiking Bear Butte. I don't know if she'll have reception there. Would you like to wait?"

Damn. The physical drive into town wasn't that big a deal, but getting past the mental hurdle he'd slowly acquired from his self-imposed isolation was more taxing. "No. I have to get back to work."

"Oh. Sure. Great work ethic. That's good to know. Did you bring any of your birdhouses with you? I would be happy to take care of them until you can connect with Char."

He had a truck full of his latest creations, but he had no intention of handing them over to a stranger. Especially a stranger who wanted something from him. His social instincts were rusty, but he sensed she had some kind of agenda that that went beyond wanting to pitch a marketing plan. "I'll leave one. If she wants more, I'll check back next week."

He could tell that idea didn't set well with Rachel. Her lips, as shapely and shiny as any model he'd ever worked with, pressed together primly. The gesture reminded him of his mother, although Mom had hardly ever scolded him or his brother. Mom had been the easy-going type, happy and very tough to rile up—until the accident. Happy hadn't been part of their family dynamic after that.

"May I see them?"

The cramped feeling in his belly increased. Selling anonymously over the Internet was one thing. Having your questionable attempt at art critiqued, mano-a-mano, was quite another. But what choice did he have?

"They're in my truck."

She quickly tidied up her work area so the box wasn't blocking the aisle and the fragile, ceramic pieces were out of harm's way then turned to follow him.

"It's cold. Don't you want a coat?"

She made a scoffing sound. "I won't freeze."

He didn't argue. He got the feeling she did what she wanted despite what anyone else thought. He admired that in a person. Independence was his one claim to fame. Or had been at one time in his life.

His dogs, all smushed together on the passenger seat of his truck, greeted him as if he'd been gone several days, not minutes. Three vociferous mutts he'd slowly acquired over the years. Only Chumley, the nine-year old arthritic black Lab, had been an intentional acquisition. Fred and Rat-Girl had joined his canine family by accident and circumstance, respectively.

"Hush."

Fred—the half pit, half who-knew-what?—let out a whimper clearly audible through the glass. Fred hated to be scolded. Not surprising, really. The poor animal had shown up two years earlier, limping from what looked like shotgun pellets in his rump. His name had been embroidered on the corner of the tattered scarf tied around his neck. Someone had loved him once, but that someone had let him go—or tried to kill him. Rufus never bothered to look for his previous owner.

Rat—the only female of the bunch—had arrived in the middle of the night last summer during a torrential downpour. Shivering and exhausted, she'd literally dropped at his feet, her longish, golden red coat plastered to her bulging sides like a drowned rat. She'd given birth an hour later to three tiny souls, all not breathing. Rufus's heart had ached watching her lick each one clean and gently nuzzle them, trying to coax them to life. He and the other two dogs had buried the little bodies the next morning up on the ridge above his house.

Oddly, that was where he'd found the inspiration behind his newest rendition of his hobby. A part-time pastime he was hoping to turn into a paying enterprise.

He didn't know how or why the idea entered his mind, but once he started puttering with the twigs and moss and bark and weathered branches he'd discovered around the burial site, his imagination had shifted to high gear and he'd found himself remembering a time in his life when art had had meaning and importance. Seventh grade. The last time he let himself tap in to that talent.

"These are different," he warned her, opening the tailgate of his vintage diesel truck. He liked its beat-up, rusted exterior, but beneath the hood was a perfectly tuned engine. His mechanic in Sturgis made sure of it. "Kat and her friend, Jenna, called my first ones suggestive. Never saw it myself, but I quit makin' them. Didn't like the e-mails I was getting." He crammed his hat back on his head, letting the flaps hang loose by his jaw.

There were twisted people in the world. He knew. He'd been one. And he wanted no part of that now.

"I call these Dreamhouses."

He reached for the closest one. A two-story model. "Every bit of it except the nails and glue comes from the woods around my place," he told her. "See the chimney? I left it open so you can write notes, fold up the paper and drop it into a sealed compartment on the inside. Whatever you write is a secret. Just between you and your god, or…whatever."

He felt embarrassed and slightly out of breath. He never talked that much at one time.

"Great name. I can do a lot with that, marketing-wise. May I?" She held out her hands to accept it. He recognized an intensity in her face that went beyond appreciating his work. She turned it, slowly taking in the detail. He was proud of these latest pieces, but nervous, too.

"This is amazing, Rufus. May I call you that?" She barely glanced his way to see his nod. "I absolutely love it. I'd buy it in a heartbeat, if I had a porch of my own." She lowered the Dreamhouse to look at him.

"Let me lay my cards on the table, as they say. At the moment, I'm homeless and between jobs." She flashed him a smile that seemed turned inward. "At my last job, I spent my days counting beans…so to speak. Not the most inspiring job on the planet," she said lightly. "I needed a change and Kat and my brother suggested Sentinel Pass. I'll be staying in Libby Lindstrom's guest house until I can find a more permanent place. If everything works out. Career-wise."

He didn't ask for more details. He knew the McGannon place. Everyone in town did. He'd been sorry to hear about the grandmother's recent passing. Libby was a kind and friendly woman he'd communicated with at the Post Office on the rare occasion when he needed stamps.

"So…you want I should leave…a couple of 'em?" He sometimes forgot to speak in a stumbling, backwoodsy manner, but he tried.

"No," she exclaimed, lifting the tarp to see more. "I want them all."

She was moving fast—either the cold was getting to her or she was excited about his work. He didn't have enough faith in his art to automatically assume the latter.

"These are wonderful, Rufus. Your style is rich, unique and mystical." Her words sounded fake but she seemed real. He wasn't sure what to believe.

"Here's what I'd like to do." She turned, hands on hips, to face him. "With your permission, I'll photograph each piece and work up a couple of design prototypes. Naturally, we'll also display them here in Char's shop. Every sale counts, right? But I think you'll be surprised by how much demand there will be once we get these into the online market."

"You really think they'll sell?"

"Absolutely," she said, emphatically. "People need to foster hope in their dreams more than ever. I sincerely hope I can do your work justice and you'll consider becoming my first client."

The word jolted him. He'd been a client before. His agent had made a boatload of money from R. J. Milne. His financial advisor had made even more—not legitimately, of course, but still. Was he ready to be a client again? He'd have to think about it.

"I'll leave two. Where do you want 'em?"

He saw the momentary dimming of the excitement in her eyes, but he didn't let it bother him. He'd learned the hard way he couldn't be responsible for making other people happy. To paraphrase a popular bumper-sticker: Disappointment happens.

"Right inside the door, please. I think I'll create a Christmas village look around them in the front window. How much are you asking for them?"

He swallowed harshly. He'd debated that question all the way down the hill. He took a chance and went high.

Her beautifully shaped brows raked together. "Oh, no. Much too low. Let's try them at twice that plus Char's commission. If they don't get snapped up in a couple of days, I'll knock them down to a sale price."

He doubted they'd sell as fast as she imagined, but he couldn't fault her enthusiasm. She had an air about her that reminded him of the view from the top of his ridge after a storm. Electric and filled with promise and potential.

Business potential, he reminded himself sternly. That was what he needed in his life. That was all he needed.
– return to top –