THE DADDY GAMBLE                           Betting On Love, Book 2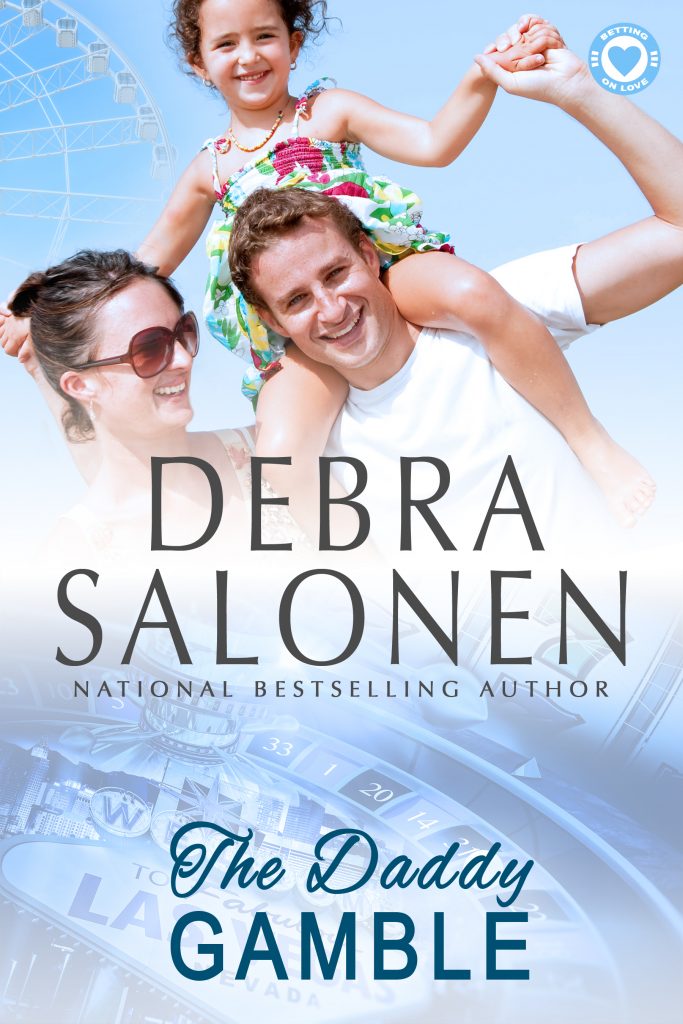 Four sisters named after royalty, with dowries fit for a queen. Their Gypsy fortuneteller mother predicted each would marry a prince…of sorts.
~~
Kate Grant's culinary feats are legend in Las Vegas, but her love life has been on the back burner for much too long.
Single mom and chef Katherine "Kate" Parlier-Grant values family above all else—even more than Romantique, her popular Vegas restaurant. Bankrupted and betrayed by her ex-husband, Kate avoids risk at all cost, until her fragile status quo is rocked to the foundation. Is putting her heart—and daughter Maya's future—in the hands of a handsome hotshot lawyer another risky gamble…or her destiny?
Rob Brighten's a legal whiz with one eye on the Exit sign back to the real world, until he runs into a beautiful roadblock named Kate.
Vegas equals purgatory in Rob Brighten's book…until his mom's new business partner asks for his help. Gorgeous, smart, and sexy Kate breaks all his dating rules: no ex-husbands, no kids, and no workaholics. So why can't he get her out of his head? And, more importantly, how can he convince Maya he's got the right stuff to be a "real" dad?
BUY HERE:
Free to KINDLE UNLIMITED readers.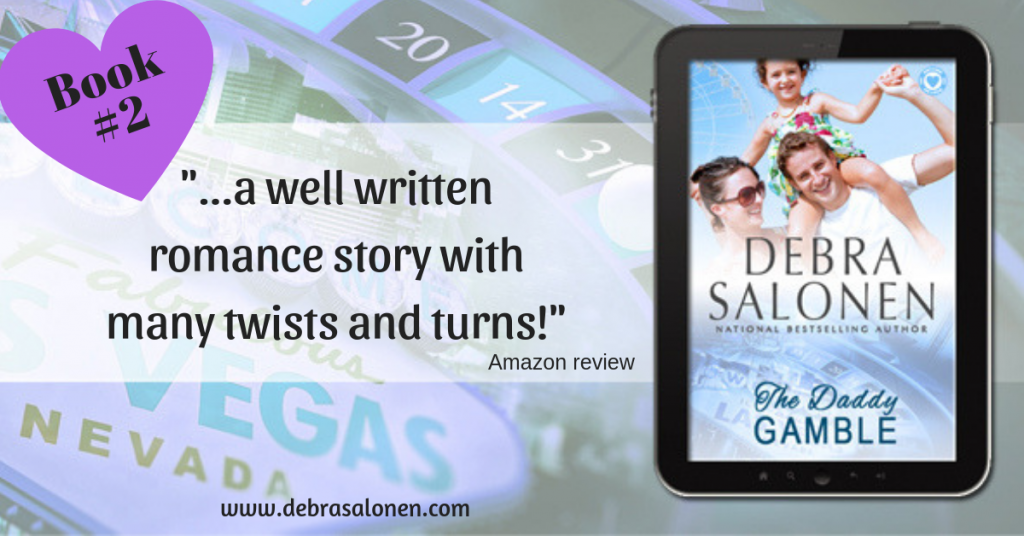 Start reading for free: ©Loner Llama Press
CHAPTER 1
"You're fired."

Kate Parlier Grant glanced around the empty parking lot, glad she'd tested the words aloud before actually saying them to the man who was meeting her here.

Thanks to television and a certain real-estate tycoon, the phrase had turned into a cliché. Kate needed to find a different way of telling Rob Brighten that he wasn't her lawyer anymore.

"Your services are no longer needed." Yeah, right! Rob had met her family—and had defended several members. If anyone needed an attorney on retainer, it was the Parlier clan.

"Rob, this isn't working out," she tried.

No, too relationship-ish.

The fact was she liked Rob. And she appreciated everything he'd done for her family, but this was about Maya. And she couldn't take any chances where her daughter's future was concerned.

She walked back to her ten-year-old Subaru wagon and turned around to face Romantique, the restaurant she owned with her sister, Grace. Sighing, she rested her butt on the faded silver fender. The day was already heating up and the wind—a constant in Las Vegas—whipped her hair about her face.

She parted the curly mop with her fingers and pushed as much of it as she could behind her ears. She'd left the house in such a hurry she'd forgotten her visor and sunglasses. The bright morning sun was already giving her a headache, but as soon as she'd resolved this matter with Rob, she'd escape into Romantique.

March had been a lion of a month for Kate and her family. Four long weeks of stress. First, they'd found out Nikolai Sarna, houseguest and distant relative, wasn't an out-of-work ex-con at all. He was really a cop investigating Charles Harmon, the man Grace had planned to go into business with. Then Grace managed to get shot, and Charles, who'd been arrested for insurance fraud and a bunch of other charges, had directed his fury at the Parlier family. Using his many connections, he'd created havoc, including the E. coli firestorm that had closed Romantique.

But that had only been part of Kate's ordeal. Ian Grant, her ex-husband, had somehow managed to convince the State of Nevada parole board that he was fully rehabilitated and should be released early after serving just two years of his six-year sentence for embezzlement. She'd hired Rob to argue against parole at the hearing, but apparently her fear that Ian might take their daughter and disappear—as only a Gypsy can—didn't impress them.

Ian was being released soon. And he wanted shared custody. Rob had failed her.

He was a nice guy but new to the area—and young. He'd handled her family's legal troubles with finesse but hadn't been able to block Ian's bid for freedom. Why? Was it because he didn't believe her when she told him Ian was a threat? Or was he not that interested in child custody cases? He hadn't even handled the case himself.

Maybe Maya is right, Kate thought. Although only four and a half, her daughter was quite astute when it came to reading people. "He doesn't like kids," she'd told Kate not long after being introduced to Rob.

Kate hadn't given the charge much credence because, at that point, price and expediency had been her main criteria for picking a lawyer. Besides, Maya usually managed to find something wrong with every man of dating age that her mother came into contact with. Kate knew why. Maya's most cherished dream was having a mommy and daddy who lived together. "Like a real family," as Maya put it.

Which was never going to happen.

Ian was a charming con man who couldn't be trusted. Period. And Kate would do whatever it took to make sure her ex didn't have easy access to his daughter. Even if that meant firing her current lawyer and going into debt to hire the toughest family attorney in Las Vegas.

Pushing off from the car, she resumed her pacing. She'd called Rob's cell phone on her way to work, thinking she might be able to handle the matter on the phone—or even better, leave a message. But he'd answered on the second ring and had immediately offered to stop by the restaurant, as if the detour weren't miles out of the way.

She walked to the back door of the building. She loved this place almost as much as she loved her daughter. She'd poured her heart and soul into the restaurant after her marriage failed.

The burnt sienna stucco walls and dark green canvas canopies, which required replacing twice a year thanks to the beating they took from the Las Vegas sun, had been her idea. "I want to create a Tuscan flavor," she'd told Grace.

Her fingers closed around the greasy yellow caution tape and ripped it away. Her anger simmered at the undeserved, malicious charge. The blow to Romantique's reputation had been disastrous, perhaps even fatal. They wouldn't know until they reopened. If they reopened.

With Grace out of the picture—and Kate distracted by the threat Ian posed, Romantique's future looked shaky at best.

The distinctive sound of a sports car engine intruded into her thoughts. Seconds later, a sleek silver status symbol pulled into the parking lot her restaurant shared with an upscale strip mall in northwest Las Vegas.

Her heart rate sped up a notch. Because of what she had to do, not because of Rob's presence, she told herself. Unsuccessfully.

Robert James Brighten.

Rob.

If she were honest, she'd admit that part of the reason she needed to let him go was the disturbing attraction she felt toward him. Which was crazy. Not that he wasn't damn appealing, but the timing couldn't have been worse—even if he weren't all wrong for her. Single. Never been married. Childless. Four years her junior. Not to mention, the son of her friend and right hand in the kitchen, Jo Grant.

Thank goodness he'd never given her any indication that he was attracted to her, she thought, bracing herself for what she had to do.

The Lexus purred to a stop. Kate waited on the sidewalk as the driver's side door opened. Rob unfolded his long legs and rose with the amazing fluidity of the young and fit. Once standing, he leaned over to retrieve something and her gaze zeroed in on his derriere. Elegantly sculpted in a tailored pinstripe suit. She tried not to ogle, but a person who had been without sex for as long as she had been could only muster so much willpower.

As usual, he was dressed conservatively. "His ex-fiancée brainwashed him into believing that dull and boring made him look older and more lawyerlike," his mother had complained one time. Jo's antipathy for the woman her only son had planned to marry had been obvious.

Kate couldn't help smiling when he turned to face her. A pale plum shirt rested beneath a red-and-silver tie. Maybe his ex-fiancée's influence was wearing off.

"'Morning, Kate," he hailed. "I'm glad you caught me before I got to the office—or should I say the Black Hole?"

The wind attacked his thick brown hair, which was long enough to graze his collar. She recalled thinking the first time she met Rob, when Jo had brought him to Romantique for lunch, that he possessed a hint of renegade under the guise of his staid suit. A touch of Gypsy, she'd privately called it.

After Ian, who was Romani, Kate had vowed that if she ever got involved with another man, he wouldn't carry a drop of Rom blood in his veins. Rob fit that criterion. Too bad he was wrong for her in every other way.

"Thanks for coming. We need to talk."

He nodded, pausing to toss his expensive-looking sunglasses on the seat of his car before he locked the door. "You heard about the parole hearing, I take it."

He stepped closer, squinting against the bright light. His eye color had intrigued her from the first. An odd combination of gold and green that reminded her of a desert shrub she couldn't name.

His smile was friendly, concerned. His demeanor that of a person you could trust. If Kate had any trust left. Which she didn't.

Ian had made sure of that.

"What went wrong? I thought you were filing a motion or something. Don't victims have some say when a convicted felon comes up for parole?" she asked, trying to keep her emotions from showing in her voice.

"In the past, yes. But nowadays the bottom line is money. The state of Nevada has more prisoners than it wants to feed, clothe and provide medical care for. White-collar criminals like your ex-husband are deemed a low threat to the community at large. Plus, he has health issues. They couldn't wait to get him off their books."

"What kind of health issues?"

"Apparently, he has hepatitis C. As I understand it, hepatitis involves an inflammation of the liver and spreads through contact with infected blood, like AIDS, but the recovery rate is better, with proper treatment."

She'd heard of hepatitis in a vague way. "Are they absolutely sure? Ian is a consummate liar. If there was a way to fake some illness to play on the parole board's sympathies, he'd do it."

Rob shook his head. "No, his illness is legit. And he had a young, idealistic law student helping make sure his paperwork was in order. He did everything right at the hearing, and I didn't."

Kate blinked, shocked to hear such a bald confession.

"I blew it, Kate. In California, the process would have been handled differently. We'd have had more time to present our case. But that's no excuse. I should have gone to the hearing myself, instead of sending my associate."

"Why didn't you?"

He met her gaze, his green eyes truly troubled. "I honestly felt a woman would hold more sway with the board, since she was reading your letter. I gambled…and lost. But my gut says nothing we argued would have made a difference. They based their decision on economics."

Money. That Kate understood. Her savings account was just about depleted, and she still hadn't gotten a bill from Rob's firm.

"You won't be billed for this, by the way," he said as if reading her mind.

"I beg your pardon?"

"I failed, Kate. I sure as hell don't plan on charging you. Talk about adding insult to injury."

Pride made her say, "I'm not a charity case, Rob."

"I know. You're a businesswoman. And you know the importance of maintaining positive customer relations, right? Bad PR can kill you when you're just starting out—or, in my case, just starting over."

According to Jo, Rob had had mixed emotions about being assigned to the Las Vegas branch of the law firm he'd worked for since passing the bar. He claimed to welcome the challenge and was delighted to be living closer to his mother, but Jo said he still had one foot in the Bay area. Whether that meant property-wise or emotionally, Kate hadn't asked. She knew he'd made an offer on a house here but the negotiations had fallen apart. Jo claimed that whole thing had been for the benefit of his bosses—to show he was a team player and in for the count.

"He hates the desert and can't wait to get back home," Jo had said. "But he also knows that buying property is a good thing, especially in this kind of market."

Kate wanted a house so bad she sometimes dreamed of floor plans.

"So where does this leave me?" she asked, forcing her mind back to her most immediate problem. "Ian is definitely getting out of prison, right?"

"Correct. According to the state of Nevada, he's paid his debt to society and deserves a chance to start life fresh, although he'll be on parole for the next two years."

Debt to society, she silently fumed. What about his debt to her? To their daughter? "I don't care what he does as long as he leaves us alone, but that isn't going to happen, is it?"

His frown made him look older. "He's Maya's father. He's petitioned the court for joint custody. There isn't a hearing date set up yet, but you and Ian will both meet with a court-appointed mediator who will evaluate the situation and make a recommendation."

Kate's heart rate sped up recalling the dream she'd had the night before. A nightmare, actually. Her daughter being carried away on the back of a giant white spider. A spider with Ian's eyes. "He'll take her and run. I know he will."

Rob didn't appear to question her assertion. "If you can prove that he's unstable or prone to flee, you can request that all visits are monitored."

"Proof? Do dreams count?"

His smile seemed steeped in sympathy. "I told you when you and I talked in my office that family law isn't my strong point, which is why I'm going to find you a new lawyer. Someone with more experience in these matters. I'm not going to risk failing you again."

"You're quitting?" She didn't have to fire him? This was good, right? Then why her sudden sense of panic? "Rob, I understand economics. If Ian's release was inevitable, you're hardly to blame. I just wish I'd had more warning." Although how that would have changed things, she didn't know. She was up to her eyes in debt and responsibilities. Instinct said: run. But with Grace in Detroit, the fate of their restaurant—and Romantique's employees—rested squarely on Kate's shoulders.

Rob looked at the woman standing an arm's length away; the serious frown on her beautiful face told him she was deep in thought. Ian Grant probably would have made parole no matter what Rob did or didn't do, but he still felt guilty. He hoped what he was about to tell her would make up for his bungling of the case.

"I know nothing is going to excuse this blunder, but I do have some interesting news that could, potentially, mean a lot to Romantique."

"Really? What's that?" she asked, brushing a wind-whipped hunk of hair out of her eyes. Her gorgeous mocha brown eyes.

Rob liked Kate. He admired her. She'd been through hell the past couple of weeks. Make that the past couple of years. He didn't know anyone—except maybe his mother—who managed to rebound with as much class after the kind of blow her ex-husband dealt her. Ian Grant embezzled hundreds of thousands of dollars from his investment clients, a list that included Kate's recently-widowed mother, then tried to leave the country with another woman. Kate had been left behind to pay the price. According to his mother, she'd sold everything she owned, including their home and cars, to pay back those she could. She'd moved in with her mother and had buried herself in her work, spending sixty to seventy hours a week to make Romantique a success.

Now, the restaurant was in jeopardy. But what Rob had in mind might help.

"Mom said you've been given the green light to reopen, right?"

She nodded, the look in her eyes weary. "Unless the rumors have scared away all our customers. People are fickle. Who knows what will happen?"

"Um…isn't that an odd thing for someone with your background to say?" he asked, keeping his tone light. Kate's heritage was Romani, or Gypsy, as he would have said before his mother educated him. Even before Rob moved to Vegas, his mother had filled him in on her employer's large and…unusual family.

Her lips turned up in one corner, acknowledging his jest. "Unfortunately, the ability to see into the future didn't make it into my genes. Now, Maya, on the other hand…" She didn't go on, but Rob understood. He'd only met Kate's daughter a couple of times, but he'd sensed something uncanny about the child. She seemed to look at him with ancient eyes that could see to the bottom of his soul.

"Well, even though I'm not Rom, I predict this will bring favorable PR and hordes of customers back to Romantique."

She stared at him.

"Here," he said, extending the hardcover book he'd been hiding behind his back. "This is for you."

She recoiled slightly at first, as if any gift came with strings attached, he guessed, but then her expression turned curious. "A book?" She took it from him, turning it so the front jacket cover was legible. Out loud, she murmured, "Prowess: Loving The Older Man."

Her lips puckered for a moment, then curved in a smile. She glanced up, a grin threatening to burst into a laugh. "I don't see how my reading this will benefit the restaurant, but um…thanks?"

Rob's heart double-thudded and he had to step back to keep from touching her. He knew Kate wasn't an effusive person like other members of her family. She ran a kitchen like a submarine commander, but she didn't hug.

"You're welcome. But don't worry. You don't have to read it. Just glance at the face on the back."

Her elegant brows flickered. She flipped the book over. "Adam Brighten. Your father?"

Rob nodded. "It's his new bestseller. He sent a copy by courier yesterday. He's going to be here in Vegas the week after next for a book signing and…he's getting married. And," he beamed at her. "The celebration could be at Romantique."

Instead of looking happy, she frowned. "Does your mom know?"

Rob was touched that her first concern was for his mother. "Yes. He called her before he called me."

His parents divorced—officially—just weeks after Rob graduated from high school, but he'd known for years that they'd only stayed together because of him. But even after going their separate ways, they'd remained friends. This had bugged his ex-fiancée to no end. "People who are so radically different shouldn't like each other so much," Serena had maintained. "It's not natural."

What wasn't natural was how long it had taken him to realize he and Serena were doomed as a couple. Unfortunately, her father, Jordan Ames, who was a senior partner of the firm where Rob worked, hadn't seen the wisdom in Rob's decision. In retribution—from Rob's point of view, at least—Rob had been "offered" a new assignment. A chance to manage the Vegas branch. A law office filled with a bunch of misfits who weren't thrilled to have someone Rob's age running the show.

If Kate's case was any indication—the transcript of the hearing would give him a clearer picture of what happened—he had an uphill battle ahead. He was, undoubtedly, in over his head, but he wasn't his mother's son for nothing. He'd whip this office into shape, then return home to the Bay area triumphant. But, first, his father needed his help, which, coincidentally, might prove fortuitous to Kate.

"Is Jo okay with this?" Kate asked, drawing him back to the present. "I mean, I know she's moved on and probably wants the best for him, but…marriage. Wow. That's a big deal, right?"

"For my dad? Absolutely. If you'd have asked me yesterday, I would have said he's a confirmed bachelor. But apparently once he met Haley it was love at first sight. Two months later he proposed."

"Whoa," she said, her look telling him a great deal even though all she said was, "That's quick."

Rob agreed, although he'd refrained from saying so to his father. "I think Dad's been lonely and dissatisfied with his life for a long time." Not that Rob talked to his father often. When the two got together, they golfed. Period.

"Dad said they met at a photo shoot for a magazine that was interviewing him. She's a model. My age or a little younger."

"Oh." She handed him back the book. "Well, um, congratulations. I'll give your mom a call—"

He interrupted. "Don't bother. She's on her way here. Should be arriving any minute."

"Jo's coming here?" Kate looked toward the street, as if expecting Jo to pull up right that instant. But Rob knew what 8:00 a.m. traffic was like in Vegas. Even more prone to bottlenecks and accidents than in Oakland, where he'd grown up, or San Francisco where he'd graduated from college and first practiced law.

"You know Mom. She hates to miss out on work." He motioned toward the building. "Have you gone inside yet? It's too bad you didn't have proof that the complaint was bogus before the health department got involved."

Rob had been pleased to hear that Charles Harmon had admitted faking the E. coli claim. Unfortunately, his confession couldn't undo the damage to Romantique's reputation.

She took a key from the pocket of her snug, faded jeans. Her gray University of Nevada Las Vegas sweatshirt had seen better days, but on Kate, it looked stylish. Her running shoes were thick-soled and functional, albeit slightly tattered.

He followed her inside, standing close enough to get a hint of her fragrance. Not perfume. Just soap and a crisp, citrus-scented shampoo.

"I have a professional cleaning crew coming this afternoon. I'm just here to take inventory so I can give Grace some idea of when we'll be ready to reopen. She's going to put together a press release."

Rob cleared his throat. "Didn't you hear what I said? I think my news might make any additional advertising redundant."

He watched her shoulders rise as she inhaled a breath of chilly, stale air. "What do you mean?" she asked on the exhale.

Her breathlessness was so sexy it produced a humming sensation perilously close to the place that would reveal how he felt if she turned around and glanced down. He'd made it a point to keep the attraction he felt toward her to himself—for propriety's sake. Plus, she really wasn't his type.

He forced his attention back to the topic at hand. "How would you like to reopen on a high note? Reporters. Photographers. A crew from Entertainment Central."

She gave him a questioning look. "Have you been snorting the dust from too many old law books?"

Playfully, he tapped her on the nose with the corner of the book she'd handed back to him. "As best man at my father's wedding, I get to pick the place for the reception. Where better than Romantique? A hundred guests. Celebrities. Paparazzi. TV coverage."

She swayed slightly as if the possibility made her knees weak. They bumped body parts. Mostly elbows and forearms, but a little skin. A little warmth. Enough to make his throat dry up.

"Here? You want to hold the reception here?" She sounded shocked, as if good fortune were so alien a concept she couldn't get her mind around it.

"Where else? Mom's even promised to bake an appropriately spectacular cake."

Kate stared at him, her brown eyes so wide and fathomless he felt momentarily lost in them. He saw her embrace the possibilities. "This could be big."

"Did I mention Dad's bride-to-be was on the cover of InStyle a few months back?" He knew nothing about the magazine, but his mother had sounded impressed when she'd called.

"The bounce we get from this might make people forget the rumors," she said, motioning him to follow. She walked inside, turning on lights as she led the way to the main kitchen.

He hesitated, reminded of the fact she'd summoned him this morning. "Before I forget, you're the one who called me, remember? I sort of blew past that point without letting you speak. Sorry."

She stopped dead in her tracks and turned to face him. A rosy hue inched up her neck. A second later, her chin lifted. "I'd planned to fire you," she said softly. "But maybe I was a bit hasty."

BUY HERE FROM YOUR FAVORITE E-RETAILER: The Daddy Gamble.