Born and raised in Brookings, South Dakota, Deb grew up calling herself "an only child with four siblings," since the youngest of the first four was ten when Deb was born. As an "only" child, she enjoyed the benevolent neglect of busy parents who operated a taxi cab company out of the family home. This meant lots of time to let her imagination run wild—every bike was a horse, every nook and corner a place to read and daydream.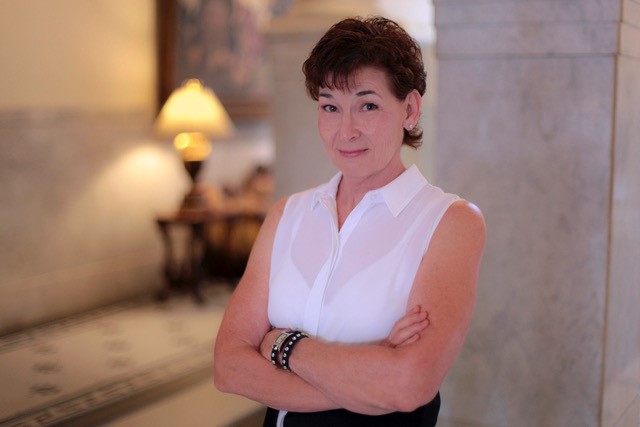 At age five, her father spoke these prophetic words, "As soon as you can write, I'll put you on the payroll." Money for words? Apparently the suggestion stuck because by age ten, she'd written a really awful screenplay—on lined, notebook paper for the TV show Flipper (with the idea of starring as the love interest for the show's young TV heartthrob, of course). When screenwriting didn't pan out—go figure—she became a professional student, graduating from college with a BA and MS. A move to the West coast, a husband and two babies didn't leave time for writing, but she kept her hand in the game by submitting short stories to Redbook (no luck) and Country Living magazine (First sale! $400! The Bull That Fell From the Sky). Eventually, she traded her "stringer" position at the Merced Sun-Star for a job as a full-time feature writer. A daily newspaper was a great learning ground, and several of Deb's articles earned accolades and honors, but firmly planted in the back of her mind was a love of fiction and the desire to write novels. So, when the love of her life—her husband of forty-plus years–offered to pay her to stay home and write her first book, she couldn't say no.
That story eventually found a home with Harlequin Superromance and was published in 2000. Deb's 25 subsequent titles for Harlequin Publishing have sold more than 2.3 million copies, worldwide. Her body of work was recognized with the Romantic Times Reviewer's Career Achievement "Series Storyteller of the Year" award in 2006. A six-time nominee for RT's Best Superromance of the Year award, Deb took home that honor 2010.
At the invitation of Tule Publishing, Deb spread her creative wings and channeled her inner maverick in Montana with her six-book Big Sky Maverick series. Her love of dynamic, sexy, take-charge heroes and strong women who know what they want motivated her to write the three-book Love, Montana series. And being part of Tule's 12-book, six-author Love at the Chocolate Shop series was an honor and a privilege, plus the amazing recipes each author produced helped satisfy her sweet tooth. #whatlovetasteslike
Deb stepped into the Indie market with her Black Hills Rendezvous series. This ten-book series set in her old stomping' grounds of the Black Hills of South Dakota mixes Hollywood glamour with small town heart. The entire series is available in 3 Boxed Sets. Her second Indie series is: West Coast Happily-Ever-After – a seven-book series that adheres to the adage love is all about "location, location, location."
What's coming next? Well, she recently completed a four-book series set in Las Vegas and she's currently writing a trilogy for Tule Publishing set back in Marietta, Montana, with a few familiar faces showing up.
In real life, Deb lives on ten-acres in the oak-dotted foothills of the Western Sierra near Yosemite National Park. She and her husband feel blessed to have their two children and five granddaughters in close proximity.
Here's recent video of the beautiful panorama just a short drive from our home. Enjoy!