Welcome to Big Sky Mavericks Country!
MONTANA REBEL, Book 9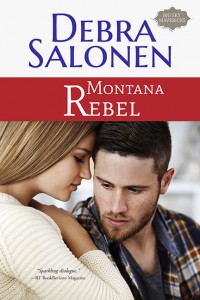 Don't look down and don't give up.

Justin Oberman's credo for living his adventurous–some might say death-defying–life to the max served him well until the unfortunate outcome of a climb made him walk away from the sport he loved. A lucrative new job offer could pave the way to a more traditional life in Marietta, Montana, where his two best friends have fallen in love with the women of their dreams. But settling down always seemed more daunting than Everest and not worth considering until a mysterious lady in red walks into his life on New Year's Eve. Suddenly, that happily-ever-after stuff Flynn and Tucker have been raving about looks within reach.

The first fall is always the hardest.

Nikki Magnesson Richards has loved Justin Oberman most of her life. First, from the safety of her brothers' old tree house. Later, with unrequited teen-age angst. Her poorly thought out attempt to get him to notice her cost them both dearly. Now, a dozen years later, her fairy godfather boss has orchestrated the most romantic meeting possible–the Big Sky Mavericks Masked Ball for Charity. A kiss at midnight with her very own Prince Charming isn't too much to ask, is it? But what are two star-crossed lovers supposed to do when one kiss isn't enough?

 
Check out REBEL's PLAYLIST:
MONTANA MIRACLE, Book 8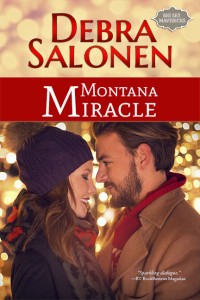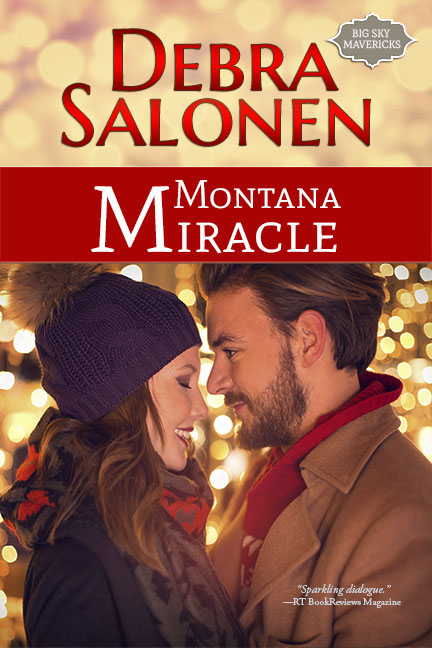 Sometimes, it takes a village to create a Montana miracle.
Gage Monroe has given himself until Christmas Day to wrap up the unpleasant bits and pieces of his old life in Paradise, Montana, before starting fresh in much warmer climes. And the last thing a loner like Gage needs is a beautiful, passionate pastor's misguided attempt to draw him into her flock. The people of Paradise exiled Gage a long time ago…with good reason.
Pastor Samantha "Sam" Zabrinski didn't move halfway across the country to accept a position in the little town of Paradise because she lacked gumption. She has no intention of giving up on Gage Monroe–a man with depth and heart he hides from the world. Besides, Gage just may be the Christmas miracle Sam's been praying for…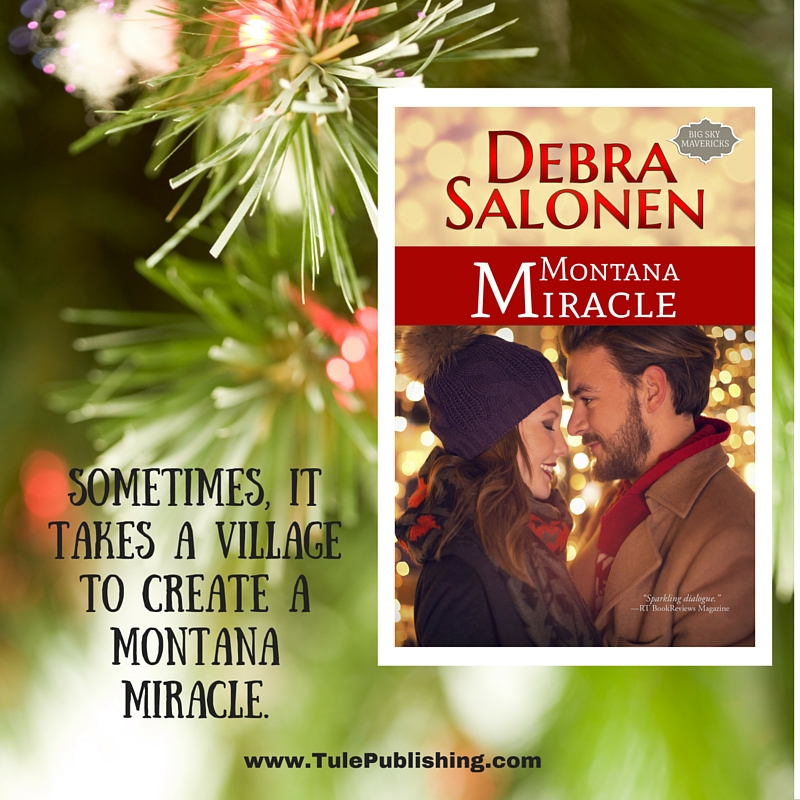 MONTANA ROGUE, Book 7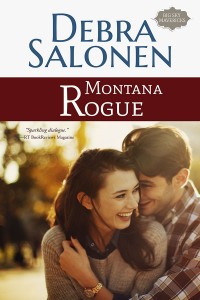 Roommates with benefits. A temporary arrangement between two people with time on their hands. Who could possibly get hurt?

"Get your Zip On" – That's Tucker Montgomery's slogan for the new zip line he's building near Marietta, Montana. But before Tucker can get the first pole in the ground, he suffers an injury that could cost him everything, until help arrives in a surprising–but gorgeous–package: Amanda Heller. They'll share her grandmother's guesthouse while he supervises the old Victorian's restoration… all with the added benefit of exploring a sizzling mutual attraction.

Amanda Heller knows her exile to Montana is her family's excuse to spare them the embarrassing fallout from her very public break-up with her ex-boss's son that left her jobless and living in her parent's Manhattan home. But then Amanda strikes a bargain with injured, sexy businessman Tucker Montgomery, who needs a place to stay while recovering. A hot summer fling seems just the thing for Amanda and Tucker, something to enjoy for a month or two tops. Most certainly not long enough to fall in love….
MONTANA HERO, Book 6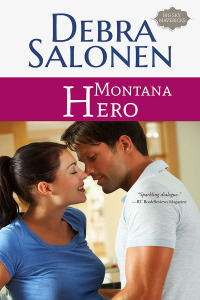 During Flynn Bensen's last wildfire rescue, a woman died despite Flynn's best efforts to save her. He can't escape his sense of failure or recurring nightmares, but he can escape to Marietta, Montana, to a new job as the head of Crawford County Search and Rescue. When he meets his scorching hot co-worker on his first day, Flynn feels like he might have just jumped from one wild fire to another that threatens to burn out of control despite his determination to keep a safe distance.
Outspoken, direct, and ambitious Kat Robinson isn't thrilled to have a new boss—after all, if the timing had been different, she'd have been a shoe-in for Flynn's job. But a single mom of a ten-year-old son knows where her priorities lay—with Brady, the light of her life. No way is she looking for a relationship and co-workers are always off limits. Too bad Flynn's so darn hot, gorgeous, kind and authentic.
Will Flynn be the hero Kat needs to help her find the courage to fall in love again?

Montana Maverick, Book 4

Be careful what you wish for-
Meg Zabrinski wants a child. She's a successful scientist, a well-known environmental advocate, and a tenured professor. She doesn't need a man in her life to make this happen. But having a baby alone is a weighty decision, so she retreats to her isolated Montana mountain cabin to write and think. When Henry Firestone–an old adversary from her distant past–drops out of the sky on Christmas Eve with three young children and a baby, Meg tells herself she'd be crazy not to consider all her options–especially when she's always nursed a secret crush on the handsome rancher. Although the sparks between them ignite a mutual passion, Henry makes it clear he's done having children. Falling in love with Henry Firestone and his beautiful family would require Meg to give up her dream. Can the Lone Wolf assimilate into a new pack, or was this Big Sky Maverick meant to be alone?
They say timing is everything-
Henry Firestone doesn't recognize the "angel in snowshoes" who comes to his rescue in the middle of a blizzard, immediately, but Meg Z. knows him. Twenty years earlier, the media paired them as rivals to the death. Meg championed the reintroduction of wolves to Yellowstone, while Henry argued just as passionately that wolves would put ranchers on the Endangered Species List. She's still beautiful, independent and headstrong, and Henry's now free to admit that he always had a thing for her. Unfortunately, he's fighting for sole custody of his late daughter's four children. They are his biggest priority. He'd do anything to keep his family together–even sleep with the enemy in hopes that she might join his cause.
Montana Darling, Book 3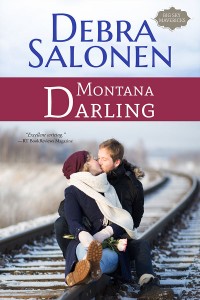 Mia Zabrinski's lost enough–
Her marriage. Her job. Her body image. Mia beat cancer and is ready to rebuild her life in her hometown of Marietta, Montana. Literally. Her first order of business is to build a house on the ten-acre parcel she was awarded in her divorce settlement. And she's damned if she'll let some stranger camp on her land and claim squatter's rights. So, maybe, he's not a squatter. The high-end bike and camera hint at more. Plus, he's hot, gorgeous and smart, but that doesn't make him less of a threat–especially when he has the audacity to claim the land is his.
Montana Cowboy, Book 2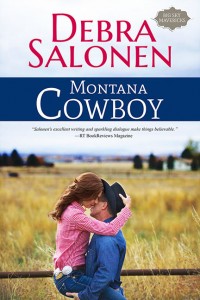 Austen Zabrinski looks the part – He's got the ranch, the boots, the hat and even a few head of cattle, but everybody in Marietta, Montana, knows the former golden boy of Marietta High is a wealthy politician, not a cowboy.
Montana Cowgirl, Book 1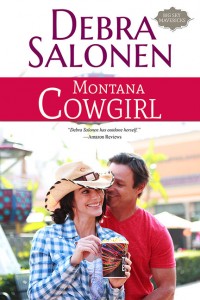 The Marietta, Montana, Fair Queen returns.
Not the triumphant return Bailey Jenkins pictured when she left home fifteen years ago. Instead, she's broken, humbled, her dreams squashed. Her sash, if she still had it, would be tarnished and tattered. All she wants is a little time to pick up the pieces of her life as she helps her parents get back on their feet. The last person she wants to see is Paul Zabrinski. Her first love. Her biggest regret. The boy who called on his Gypsy great-grandmother to curse her.
Gorgeous, sexy and successful, Paul's a single dad living the life she could have had if she'd stayed in Montana with him. Seeing Paul proves what Bailey knows all too well, she didn't need the Zabrinski curse to ruin her life–she was perfectly capable of doing that on her own.