Welcome to Big Sky Mavericks Country!
Meet the Zabrinski family. Rugged individuals who have carved out a life in Marietta, Montana.

Book I: Montana Cowgirl
Some dreams come with a big price tag.
Bailey Jenkins left her hometown of Marietta, Montana, at eighteen, poised to take college and the rodeo world by storm–despite Paul Zabrinski. On the eve of her great escape, at the top of the Ferris Wheel at the Big Marietta Fair, he invoked his Gypsy great-grandmother's curse. "If you do this, Bailey Jenkins, I will never forgive you." Fifteen years later, Bailey's back–shattered, humbled by fate and bruised at the soul level but determined to rebuild somewhere other than Marietta, once she helps her parents get back on their feet. She didn't expect Paul Zabrinski to meet her plane. The handsome, sexy, single father is living the life she could have had if she'd stayed. Bailey didn't need Paul's great-grandmother to curse her–Bailey already had the worst luck on the planet.
Never say never.
One look at Bailey Jenkins–his first love, the woman he adored…and cursed–and every emotion Paul Zabrinski felt fifteen years earlier comes rushing back. The love of his life broke his heart and made him hate her…or so he thought. The line between love and hate is very narrow, with only so much room for forgiveness. But Paul Zabrinski owns Big Z Hardware and Construction. If anyone is capable of building a bridge for them to cross together, he's the one.
Book 2: MONTANA COWBOY

Austen Zabrinski looks the part –
He's got the ranch, the boots, the hat and even a few head of cattle, but everybody in Marietta, Montana, knows the former golden boy of Marietta High is a wealthy politician, not a cowboy. And even though that nasty scandal in Helena might have knocked him down a notch or two in the polls, what kind of a fool would trade access to the halls of power in Helena and a Harvard law degree for a ranch in western Montana? Possibly one whose new neighbor, Serena James–the woman the guys at Grey's Saloon call "…the Red Hot Llama Mama"–makes him start to think about what he wants out of life, instead of what's expected of him.
Serena James knows trouble when it hops her fence –
Moving to Montana and deleting her blog seemed like the perfect solution to her online stalker problem. Serena's ready for a fresh start, but when the escrow on her ranch falls through, she has to scramble to find an immediate but temporary safe haven to rent for her herd of 50 alpacas, two llamas and one giant dog. Serena's barely moved in when Austen Zabrinski–the man her landlord called "my absentee ranch owner brother who lives and works in Helena"–hops the fence in need of a lift. Even at first glance, Serena can tell he's nobody cowboy, but who's to say that isn't a good thing? A little tryst with her gorgeous, sexy, here-today-gone-to-Helena-tomorrow neighbor might be the perfect welcome to Montana.
Book 3: MONTANA DARLING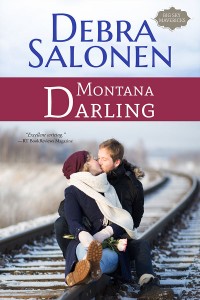 Mia Zabrinski's lost enough–
Her marriage. Her job. Her body image. Mia beat cancer and is ready to rebuild her life in her hometown of Marietta, Montana. Literally. Her first order of business is to build a house on the ten-acre parcel she was awarded in her divorce settlement. And she's damned if she'll let some stranger camp on her land and claim squatter's rights. So, maybe, he's not a squatter. The high-end bike and camera hint at more. Plus, he's hot, gorgeous and smart, but that doesn't make him less of a threat–especially when he has the audacity to claim the land is his. Look out, darlin', Nitro is back and prepared to prove what the other Big Sky Mavericks always knew: small packages can pack a big punch.
Ryker Bensen doesn't have much–
And that suits him fine. Less than a year ago, he had everything: a beautiful girlfriend, a baby on the way, a career that earned him fame and a very comfortable living…until he didn't. Grief sent him to ground, and his favorite ground growing up was a ten-acre patch along side the Marietta River where he camped every summer – land held in trust until his thirtieth birthday, a few weeks away. When a beautiful spitfire named Mia Zabrinski shows up and orders him off what she says is her land, Ryker realizes she might be the spark he needed to jumpstart his interest in living again.
Book 4: MONTANA MAVERICK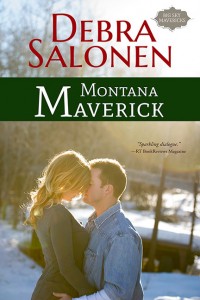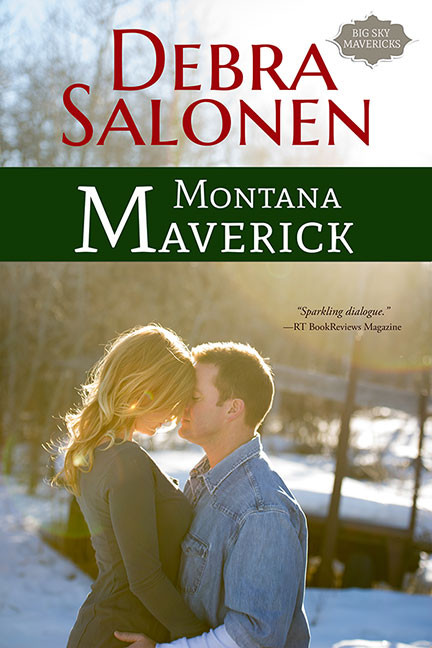 Be careful what you wish for-
Meg Zabrinski wants a child. She's a successful scientist, a well-known environmental advocate, and a tenured professor. She doesn't need a man in her life to make this happen. But having a baby alone is a weighty decision, so she retreats to her isolated Montana mountain cabin to write and think. When Henry Firestone–an old adversary from her distant past–drops out of the sky on Christmas Eve with three young children and a baby, Meg tells herself she'd be crazy not to consider all her options–especially when she's always nursed a secret crush on the handsome rancher. Although the sparks between them ignite a mutual passion, Henry makes it clear he's done having children. Falling in love with Henry Firestone and his beautiful family would require Meg to give up her dream. Can the Lone Wolf assimilate into a new pack, or was this Big Sky Maverick meant to be alone?
They say timing is everything-
Henry Firestone doesn't recognize the "angel in snowshoes" who comes to his rescue in the middle of a blizzard, immediately, but Meg Z. knows him. Twenty years earlier, the media paired them as rivals to the death. Meg championed the reintroduction of wolves to Yellowstone, while Henry argued just as passionately that wolves would put ranchers on the Endangered Species List. She's still beautiful, independent and headstrong, and Henry's now free to admit that he always had a thing for her. Unfortunately, he's fighting for sole custody of his late daughter's four children. They are his biggest priority. He'd do anything to keep his family together–even sleep with the enemy in hopes that she might join his cause.
Book 5: MONTANA GIFT

"Grandma, how did you and Gramps meet?"
The innocent question got Louise Jenkins thinking…and writing. But she couldn't tell her family's story without bringing up some painful memories. Would the raw truth jeopardize hers and Oscar's newfound serenity?
Oscar "OC" Jenkins has a lot to live down. Marietta, Montana's notorious Fish Whisperer had chapters of his life he'd like to forget, but he knows his wife of nearly forty years and he knows it's time to set the record straight.
When their newly enlarged family gathers to celebrate Christmas, Louise and OC share that gift most precious of all…the truth. Unvarnished. Some good. Some bad. A real life love story of two survivors who gave each other gifts beyond price and stayed together because love makes all things possible.
Book 6: MONTANA MIRACLE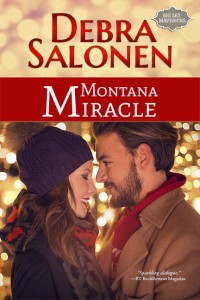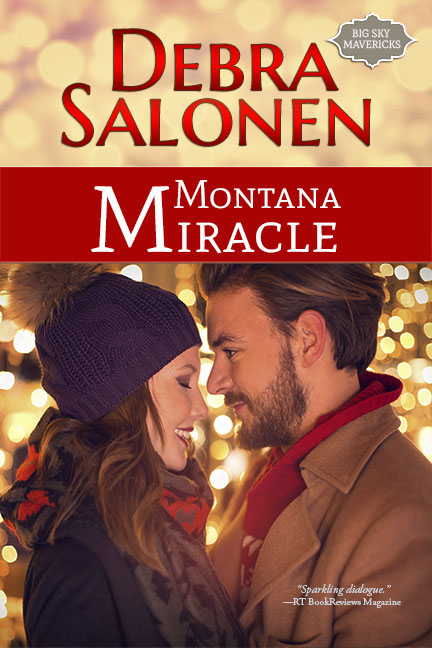 Sometimes, it takes a village to create a Montana miracle.
Gage Monroe has given himself until Christmas Day to wrap up the unpleasant bits and pieces of his old life in Paradise, Montana, before starting fresh in much warmer climes. And the last thing a loner like Gage needs is a beautiful, passionate pastor's misguided attempt to draw him into her flock. The people of Paradise exiled Gage a long time ago…with good reason.
Pastor Samantha "Sam" Zabrinski didn't move halfway across the country to accept a position in the little town of Paradise because she lacked gumption. She has no intention of giving up on Gage Monroe–a man with depth and heart he hides from the world. Besides, Gage just may be the Christmas miracle Sam's been praying for…