Welcome to Love, Montana!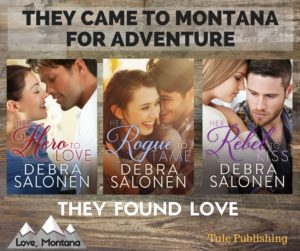 Three friends. Wild fire Hot Shots. Heroes all.
They came to Montana looking for adventure.
They found…love.
Book 1 – HER HERO TO LOVE
During Flynn Bensen's last wildfire rescue, a woman died despite Flynn's best efforts to save her. He can't escape his sense of failure or recurring nightmares, but he can escape to Marietta, Montana, to a new job as the head of Crawford County Search and Rescue. When he meets his scorching hot co-worker on his first day, Flynn feels like he might have just jumped from one wild fire to another that threatens to burn out of control despite his determination to keep a safe distance.

Outspoken, direct, and ambitious Kat Robinson isn't thrilled to have a new boss—after all, if the timing had been different, she'd have been a shoe-in for Flynn's job. But a single mom of a ten-year-old son knows where her priorities lay—with Brady, the light of her life. No way is she looking for a relationship and co-workers are always off limits. Too bad Flynn's so darn hot, gorgeous, kind and authentic.

Will Flynn be the hero Kat needs to help her find the courage to fall in love again?
Book 2 – HER ROGUE TO TAME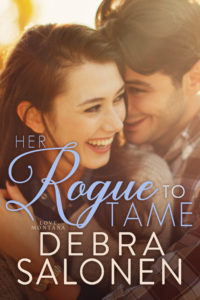 Roommates with benefits. A temporary arrangement between two people with time on their hands. Who could possibly get hurt?

"Get your Zip On" – That's Tucker Montgomery's slogan for the new zip line he's building near Marietta, Montana. But before Tucker can get the first pole in the ground, he suffers an injury that could cost him everything, until help arrives in a surprising–but gorgeous–package: Amanda Heller. They'll share her grandmother's guesthouse while he supervises the old Victorian's restoration… all with the added benefit of exploring a sizzling mutual attraction.

Amanda Heller knows her exile to Montana is her family's excuse to spare them the embarrassing fallout from her very public break-up with her ex-boss's son that left her jobless and living in her parent's Manhattan home. But then Amanda strikes a bargain with injured, sexy businessman Tucker Montgomery, who needs a place to stay while recovering. A hot summer fling seems just the thing for Amanda and Tucker, something to enjoy for a month or two tops. Most certainly not long enough to fall in love….
Book 3 – HER REBEL TO KISS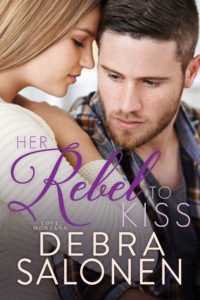 Don't look down and don't give up.

Justin Oberman's credo for living his adventurous–some might say death-defying–life to the max served him well until the unfortunate outcome of a climb made him walk away from the sport he loved. A lucrative new job offer could pave the way to a more traditional life in Marietta, Montana, where his two best friends have fallen in love with the women of their dreams. But settling down always seemed more daunting than Everest and not worth considering until a mysterious lady in red walks into his life on New Year's Eve. Suddenly, that happily-ever-after stuff Flynn and Tucker have been raving about looks within reach.

The first fall is always the hardest.

Nikki Magnesson Richards has loved Justin Oberman most of her life. First, from the safety of her brothers' old tree house. Later, with unrequited teen-age angst. Her poorly thought out attempt to get him to notice her cost them both dearly. Now, a dozen years later, her fairy godfather boss has orchestrated the most romantic meeting possible–the Big Sky Mavericks Masked Ball for Charity. A kiss at midnight with her very own Prince Charming isn't too much to ask, is it? But what are two star-crossed lovers supposed to do when one kiss isn't enough?