FOREVER AND EVER, BY GEORGE – West Coast Happily-Ever-After  – Book 7
Cover coming soon
Show of hands—who loves dogs?
George, one of the main characters in this book, is a dog. A smart, silly, funny, kind-hearted soul in a dog's body. He's also the product of a broken home, and one day he sets out to find the piece that's missing from his previously very nice life. George needs a woman. Someone who will remember to feed him on time. Someone to pet him and tell him he's wonderful. And he has just the right woman in mind—Kara. His dog groomer.
Kara Williams is a busy single mother of five-year-old twins. She also owns a pet-grooming business and has big dreams where that's concerned. She's not in the market for a dog, nor is she looking for love. But when George shows up at the Paws Spa one afternoon—she can't turn him away. Truth is she likes George. And before long, she discovers she feels the same about his owner, Brad Ralston.
Brad, George's owner by default after his wife left him, is struggling to keep his life together. For a single father with a demanding business, a runaway dog is a problem. But George is a Great Dane, which makes him a very large problem—until a hug from Kara has Brad wondering if maybe his dog is the smartest one of all.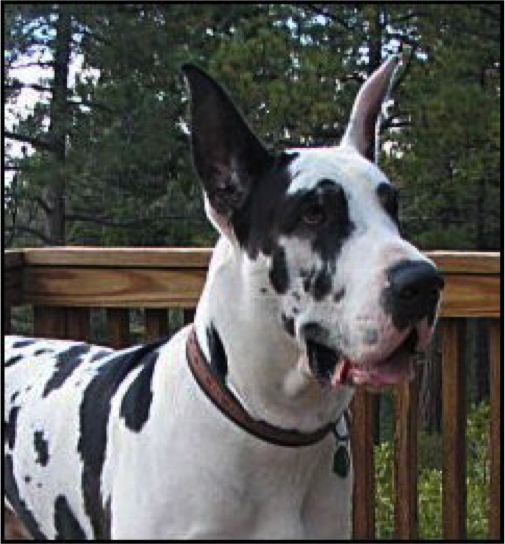 Dear Reader,
You may not know this about me, but I speak dog. Or, to be more precise, I think dog.
Not too often, fortunately – my life is complicated enough – but every once in a while, a story comes to me that has a very strong canine character.
George is a Harlequin Great Dane. Here's the working photo I used when I was channel—er, writing his story. His was the first voice I heard when this story began:
George knew what he was doing was bad, but he simply had no choice. The woman wasn't coming back. He'd been patient. He'd hoped for the best, but the truth was plain to see. His easy, orderly life was over. Bad things had happened, and nobody seemed to care about him any more.

George liked the man who was his master. He used to bring George wonderful treats late at night. They'd sit together on the patio and the man would talk as he passed out bits of steak. But that hadn't happened for a long, long time.

The boy had changed, too. He never petted George anymore or came out to throw the ball or take him for a run behind his bike. Right now, the boy was in the house but wouldn't come out no matter how loudly George whined and barked.

Something had to be done. George needed a woman in his life. Things had been good when the woman lived here, and if the man wouldn't get one, then George would have to do it himself.

And he knew just the woman he wanted.

Kara. The lady with the big tub filled with sweet-smelling bubbles. She had kind eyes and gentle hands and she talked to George as if he were the smartest, most wonderful dog in the world.

George loved her, and he would find a way to bring her home, even if it meant digging under the fence. The man would be mad, but this was for his own good, too. He'd see.

George and I can't wait to share this West Coast Happily-Ever-Story with you.

Coming: 2/14/18

Preorder: iBooks