Goodbye, 2019, that was quite a ride!
Here's a quick video look back in the rearview mirror.
Video 2019 in review: https://youtu.be/-L3jnC6ydBg
Insider news:
We have a tentative "flash" for my Property Sisters of Montana series. (A "flash" is what they call the recognizable "logo" that you see on each cover to signify its part of a series.) The amazing and creative Tule Publishing team is working on the covers as we speak. I really love this flash and wanted to share it with you.

(Note: the actual application version may change.)
I say a nightly prayer to the Cover Gods that my Property Sisters covers will be knock-your-socks-off gorgeous. (But I'd also be happy with: must-grab-and-read-this-book). 😉
Book "Ghosts" of New Year's Eve Past
HER REBEL TO KISS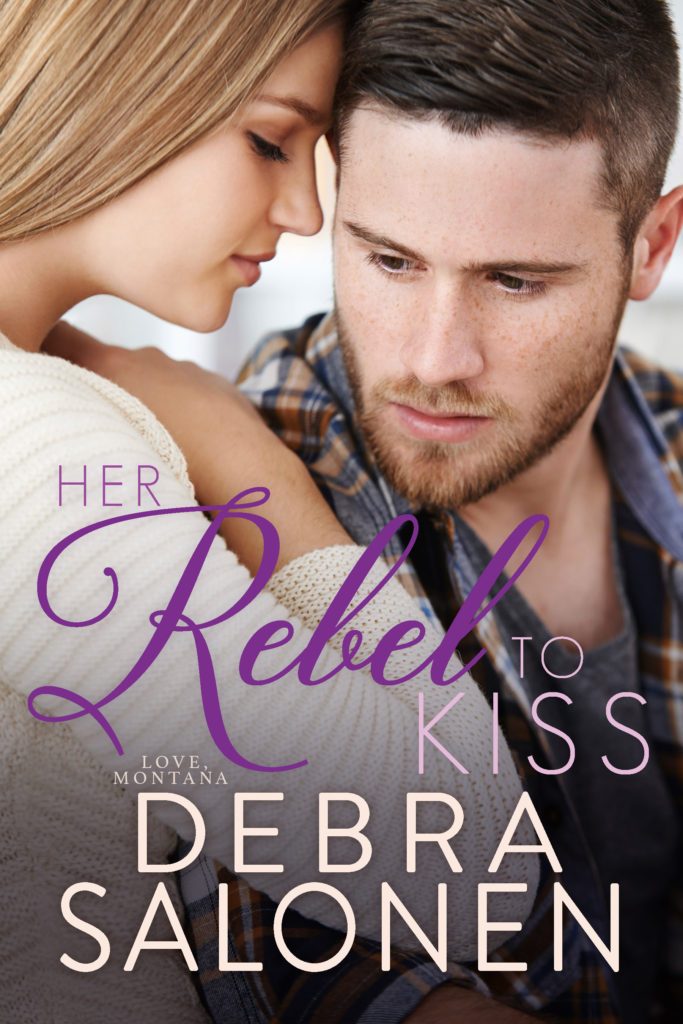 Don't look down and don't give up.

Justin Oberman's credo for living his adventurous–some might say death-defying–life to the max served him well until the unfortunate outcome of a climb made him walk away from the sport he loved. A lucrative new job offer could pave the way to a more traditional life in Marietta, Montana, where his two best friends have fallen in love with the women of their dreams. But settling down always seemed more daunting than Everest and not worth considering until a mysterious lady in red walks into his life on New Year's Eve. Suddenly, that happily-ever-after stuff Flynn and Tucker have been raving about looks within reach.

The first fall is always the hardest.

Nikki Magnesson Richards has loved Justin Oberman most of her life. First, from the safety of her brothers' old tree house. Later, with unrequited teen-age angst. Her poorly thought out attempt to get him to notice her cost them both dearly. Now, a dozen years later, her fairy godfather boss has orchestrated the most romantic meeting possible–the Big Sky Mavericks Masked Ball for Charity. A kiss at midnight with her very own Prince Charming isn't too much to ask, is it? But what are two star-crossed lovers supposed to do when one kiss isn't enough?

*Previously titled Montana Rebel

Love, Montana series
Book 1: Her Hero to Love
Book 2: Her Rogue to Tame
Book 3: Her Rebel to Kiss
Here's a little excerpt for HER REBEL TO KISS. My hero, Justin, has just met an intriguing woman in red at a charity masked ball in Marietta, Montana (setting for my new series):
HER REBEL TO KISS Excerpt
Copyright © All Rights Reserved
… He had to say something or risk looking like an insensitive brute. "Death happens." Brilliant. "I lost a colleague to depression."
She crossed one knee over the other and sat forward to ask, "Are you a mortician?"
"No. Why? Do I look like a mortician?"
Her grin made his fingers itch to take off her mask. "No. But it seems like a depressing field. A doctor, then?"
He shook his head.
"Ambulance driver? EMT? Homicide detective?"
His laugh felt rusty but good. "I climb mountains and fight fires."
She put one hand to her chest—a mock gesture of shock. "Dear me. Not at the same time, I trust."
It was Justin's turn to make a so-so gesture. "Generally, not. But it can feel like mountain climbing when you jump out of a plane and find yourself ten miles and five thousand feet in elevation away from the action."
"Ten miles? And you have to walk that? With full packs?"
He nodded.
Although he couldn't see her eyebrows beneath the mask, he could sense them lifting to give him a droll look. "Forget suicide. That would kill me."
Although he assumed asking personal questions flew in the face of the whole masquerade thing, he found his curiosity piqued. Besides, he'd never been very good at playing games—just ask his sisters. "What did your late husband do that caused the post-traumatic stress issues?"
"Military explosives. Ironically, he was injured when his truck ran over an IED on his night off." She looked over his shoulder where Justin could hear the orchestra warming up. "We met in rehab."
She made an offhand gesture toward her back, as if her injury wasn't worth mentioning. And, yet, it had been bad enough to require a stay in a rehabilitation facility. Brave girl.
"I'd never met anybody so glad to be alive. He inspired me—and everyone else—to work harder. Unfortunately, he set the bar for his own recovery a little too high."
Justin got it. He'd had a climbing friend who was told he'd never walk again, let alone climb. A handful of pills and a hot tub did the trick. "How long did he stick around?"
"Until I was back on my feet." Her beautiful blue eyes sparkled with unshed tears. "Although by then, he resented me so much for being able to walk again, the last sound I heard was an empty gin bottle hitting the door after I closed it behind me."
Crap, he thought, regretting his questions. No wonder people wear masks to these things.
Justin didn't have any magical words to ease her pain. What could he say that she wouldn't have heard a thousand times before? So, he said nothing. They sipped silently as the cello player warmed up with a hauntingly beautiful riff.
He looked over his shoulder to confirm his guess. Sure enough, Tucker's mother, Caroline Mayhue, was seated in the front row with her gleaming instrument braced between her knees. Her distinctive white-blond hair and dramatic black gown made her whimsical red mask completely ineffectual. Marietta's community orchestra must have done collective back flips of joy when a celebrated cellist from the New York Symphony joined their ranks.
He quickly scanned the area behind the stage, looking for Philip—Caro's friend/lover/pilot. Sure enough, the man stood watch—sans mask—beside the rear door. Justin didn't know him well, but Tucker had a great deal of respect for the man who was far more than the chauffeur most people took him to be.
"A full orchestra," the lady in red murmured. "Such extravagance usually speaks to deep pockets."
"Not mine, alas."
Her attention turned his way again. "Well, we've heard my sad—"
"But anonymous." He inserted.
Her grin set off a chain reaction of inner explosions he hadn't felt in a long time. "My sad, but anonymous, story. Now, it's your turn. Only fair."
He looked at the amber liquid still remaining in his glass. Had the alcohol loosened his lips so much he was about to tell his past to a stranger with eyes that had seen too much? Maybe he could blame the mask for providing the safe illusion of camouflage she'd ducked behind.
"My father was a highly decorated firefighter in Los Angeles. He was knocking out a three-alarm apartment house fire when my mother went into labor with me. This was pre-cellphone days, of course. She called the station and left messages with everyone she could reach. We don't know for sure if Dad got the message or not, but some of his buddies speculated that Dad—who was a by-the-book safety fanatic—failed to double-check a spot on the floor because he was in a hurry to get to the hospital. When it gave way, he fell straight into the flames below. Mom said he hung on long enough for her to tell him about me, although the nurses wouldn't let her take me into the burn unit. She never forgave them for that."
"I wouldn't have, either." She touched her glass to his. "To your mother."
She tossed back the rest of her drink and stood, wobbling a tiny bit. She grabbed the edge of the table before Justin could reach out.
"Ah," she said, laughing. "Nothing like that first little buzz that comes from truly fine alcohol."
She picked up her cane and started away, pausing to make a follow-me motion. "Let's dance before the sad mojo settles in for a stay. That's how my ex explained his various lapses. It was never his fault. Just sad mojo."
For a woman with a cane, she moved pretty damn adroitly, Justin thought, trotting at her heels like a retainer or puppy dog. He couldn't decide which.
Horny puppy dog, maybe. The slight catch in her step made the line of red fabric shimmy from hip to floor. He couldn't wait to settle one hand at the small of her back.
Since the orchestra was playing an old-fashioned waltz, she rested the walking stick against the back of a chair at one of the tables ringing the dance floor and offered him her hand. Her fine bones felt fragile to the touch, but when they started to move as his mother had taught him so many years ago, her grip solidified. "You're stronger than you look."
Her beautiful eyes met his without apology. "I've had to be."
Her answer intrigued him in a way that made his juices flow. The sort of feeling he got when he stumbled across a challenging boulder to free climb or heard about a peak he'd never tackled before. Suddenly his plans for the evening seemed a ridiculous waste of time. Who in his right mind would spend the night alone when he could get to know someone as beautiful and intriguing as this woman?
"Ah, Viola, I think we're in for an amazing evening."
He brought her hand to his lips and kissed the peachy skin, his gaze never leaving hers. Her step faltered for a second before she smiled and relaxed against him, as if he'd passed the first level of competition and was free to move on to the next.
Challenges were part of Justin's DNA. He couldn't wait to see what other tests the mysterious Lady in Red had in store for him.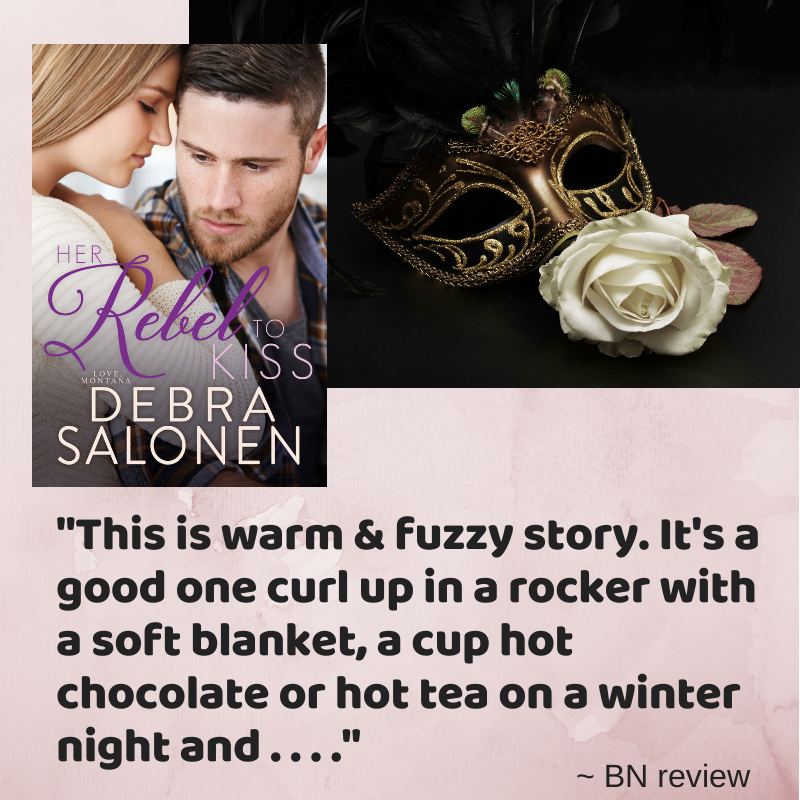 Purchase HER REBEL TO KISS here!
---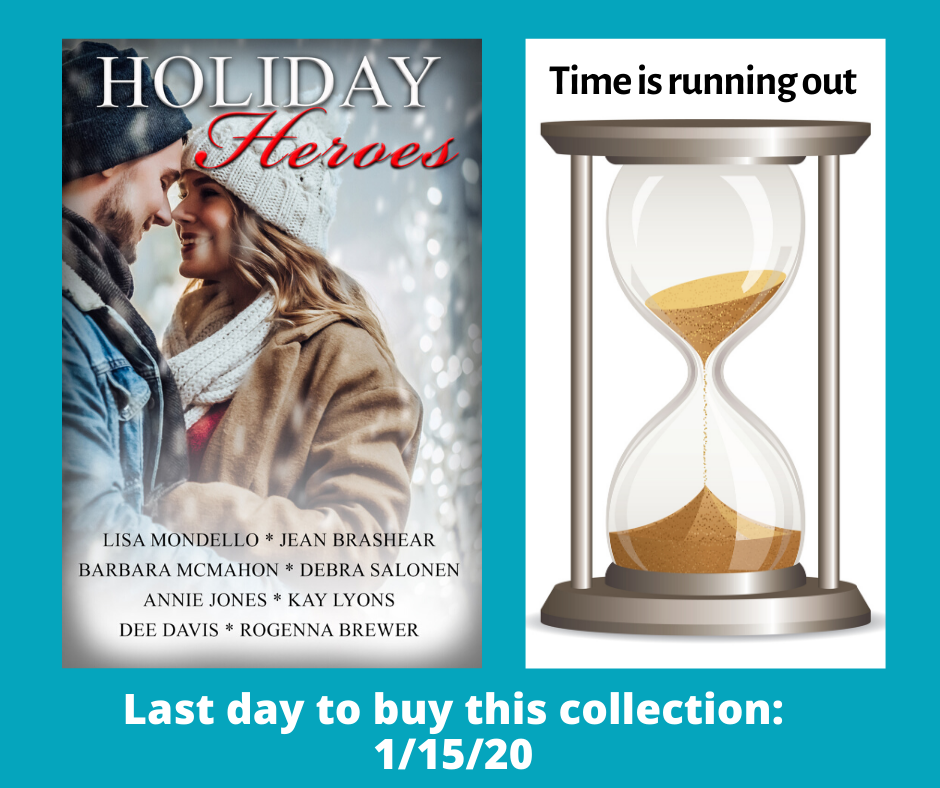 Purchase HOLIDAY HEROES HERE!
---
Last week's Q&A was: Will you be awake at midnight on Dec. 31, 2019, to usher the new decade in? Yes or No?
WOW! I was surprised to learn 98% of you planned to be awake at midnight. Although some said they'd be reading, not reveling. I was so humbled I decided to go to a party in the neighborhood. It was loud and fun. I was definitely awake. Thanks for peer pressuring me out of my winter hermit mode. 😉
My two randomly selected winners this week are:
Mary (KK@Y) – YES
and
Gloria Gibbel – NO
(Mary and Gloria congrats. Please email me your pick of either a $5 Starbucks or a $5 Amazon gift card.)
---
This week's Q&A: Resolutions: Yes or No?
I'm a rock solid no. Luckily, I'm usually so "over" the holidays with all the rich food and candy that January just naturally feels like a fresh start with my usual eating and exercise habits kicking in.
(Two winners will be chosen by random drawing to receive either a $5 Starbucks gift card or a $5 Amazon gift card. Please reply the usual ways: email or on my DebraSalonenAuthor Facebook page.)
Deb
Next week: more Property Sisters "insider" news. I turned in my revisions over the holidays and guess what my editor said?