My family and I are about to embark on an early Christmas adventure. Wish me luck, a pocketful of sanity and lots of smiles.
I consider myself very fortunate. My husband and I have never allowed the holidays to lock us into any one tradition. We've taken our kids to San Diego (photo below)  to "sleep over the ocean," we've stayed in vacation rentals in San Simeon, Shelter Cove and Aptos, California, with enough rooms to accommodate our whole family. We've stayed home so we could invite extended family members to a potluck feast. Our feeling is: It's all good, if we can be together.

This year, two of our granddaughters will be traveling to Detroit to spend the holidays with their maternal grandparents. While we'll miss them something fierce, we've decided not to let ourselves get locked into a date. Christmas Eve #1 will be tomorrow — ice skating, anyone? Christmas #1 will be Sunday morning. Cardamom rolls and presents–for a select few. 😉
Christmas #2 (Dec. 25th) will be far more low-key, freeing us up to take a hike, see a movie, book dinner out or visit family in the area.
What are your holiday plans/traditions? Flexible or set in stone?
The Romani family in my Betting On Love series has deeply rooted traditions and I can't tell you how much I enjoyed writing this scene from Book IV: A MATCH MADE IN VEGAS. Here's a small taste of it. Enjoy!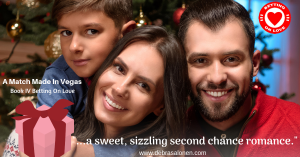 "Ho, ho, ho," a booming voice said from the street behind her. "Merry Christmas."

Alexa whirled about. "Santa," she exclaimed. "You scared me."

"Perhaps that's because you haven't been a good girl this year," the large-bellied man in a red suit and full, shiny white beard said. From his lack of stature—and because her mother had warned her ahead of time—Alexa knew the portly character was her uncle, Claude.

She put down her sack and rushed to him, hugging him soundly. "Oh, Santa, you know better than that. I'm Saint Alexa, in some circles."

Her uncle's hearty laugh touched her deeply, giving her the first real taste of holiday spirit. The merry twinkle in his eyes was probably from the many Christmas lights on the eaves of the houses, but for a second, she almost saw her father behind the lush beard and mustache. "Well, if that's true, then I expect you'll be getting a very special gift beneath your tree tonight, my dear. Very special, indeed."

She laughed and patted his shoulder. "So, you got my letter, then? You know what I want?"

His white gloves squeezed her arm and, keeping in character, he said, "That I do, my girl. That I do. Now, I must be on my way. The rein-ponies are waiting."

"Rein-ponies?" He just waved and kept walking. His black cowboy boots clicked on the sidewalk.

Her mother had mentioned something about Claude rigging up his pony cart to resemble a sleigh. Her heart suddenly felt lighter than it had been in days; she picked up her bag and went inside.

"Hey, everybody, I just bumped into a guy in a red suit outside. Who's got the number for our Neighborhood Watch?"

Children's squeals and shouts echoed throughout the house as Maya, Luca, Gemilla and half a dozen second- and third-cousins stampeded to the windows to look for Santa.

"Way to go, Alexa," Grace teased. "We were just gonna feed them."

"Sorry," Alexa said, handing her bag of wrapped gifts to Gregor. In a soft voice, she asked, "How come you're not out helping with the sleigh?"

"Nick and Mark volunteered so I could stay with MaryAnn," he answered in an equally quiet tone.

Mark's here already? She glanced around and, sure enough, there was Braden standing between Luca and Maya peering out a window. And sitting on the sofa, as demurely as a princess, was Gregor's wife. She scooted forward slightly, looking interested in what the children were doing.

"Wow. MaryAnn looks great," Alexa whispered. "Better than great. She looks like her old self."

Gregor beamed as if Santa had handed him the best gift of all. "I know. I think she's going to make it. I really do." Alexa gave him a quick hug then dashed to the couch to talk to the woman she'd once considered a dear friend. They'd lost a lot of the closeness over the years—from work and pressures only MaryAnn truly understood, but Alexa was determined to be a better friend to MaryAnn in the future.

"Welcome home, stranger," she said, sitting down. "Santa really has granted us our collective wish—to have you back, safe and sound."

MaryAnn smiled tearfully. "Thank you, Alexa. It's good to be here. I honestly wasn't sure this day would ever happen, but Gregor promised me it would, and I guess that's what I needed—someone who really believed in me."

They talked a bit longer, until Grace walked into the room and shook one of Alexa's sleigh bells to get everyone's attention. "Dinner is served," she said theatrically, then added, "Santa won't come until the last plate is in the dishwasher, so let's move it, people."

Read on: Books2Read
Happy weekend, my friends! Ho, ho, ho…
Deb