It's primary season in California. We have twenty-seven people running for governor. I need your vote, too, but I promise to keep this super simple! 😉
My upcoming GYPSY PRINCESS BRIDES series is set in Las Vegas and features four sisters of Romani descent. Their late father, Kingston "King" Parlier, named them after strong, beautiful, dynamic women—Princesses Alexandra, Katherine, Elizabeth and Grace (Kelly). Thanks to their Gypsy fortuneteller mother's prophecies, they know they will marry a prince…of sorts. What Prince Charming these days doesn't need a little work? (Okay, maybe Harry is a keeper just as he is, but he's taken…or will be tomorrow.) 😉
First up is Grace's story: PRINCE CHARMING UNDERCOVER. My amazing cover designer, Rogenna Brewer, outdid herself with three viable choices. I love them all and need help deciding which to pick. I have a contest that includes a $10 gift card prize to one winner happening on my newsletter that went out today.
To be part of the contest, click here: VOTE.
If you prefer not to sign up for my newsletter, but you still want to vote, I will tally your choice in with the rest. Here are your choices: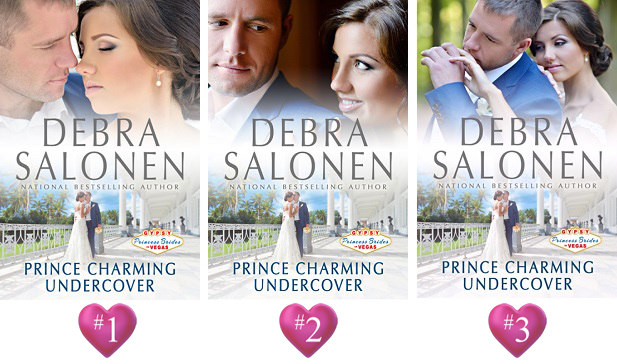 Please leave your vote in the comments below. Winning cover and contest winner announced as soon as Prince Charming Undercover goes up on preorder.
Have a great weekend and happy reading!
Deb