Blurbs! Ack! Kill me now!
I hate to write book descriptions–or, blurbs as most writers call them, which we all know are key to selling a book.
Blurbing (not a verb, but it is in my mind) should be an Olympic event. Think about it. You take several long, meaningful, and carefully thought out paragraphs that describe the story you just spent weeks or months, maybe years, writing then you mince said paragraphs into bite-size fragments designed to tantalize, tease, tell the reader just enough about the book to make her slap down her hard-earned money to buy it.
I'm terrible at it. Really bad. So, I signed up for a BestPageForward Webinar on the subject. (I'll share the replay link below in case you're interested.) I learned a lot. I learned that this process is really hard, completely subjective and brutally tough on the ego. You have two choices: develop a split personality or hire it done.
Since all my "pin-money," as my late mother-in-law would say, is earmarked for my website remodel,  I'm going with split-personality. Writer-girl is hiding under the covers while blurb-girl gets out her erase key and thesaurus.
Here's my BEFORE and AFTER. I consider both works-in-progress and will take any/all suggestions gratefully.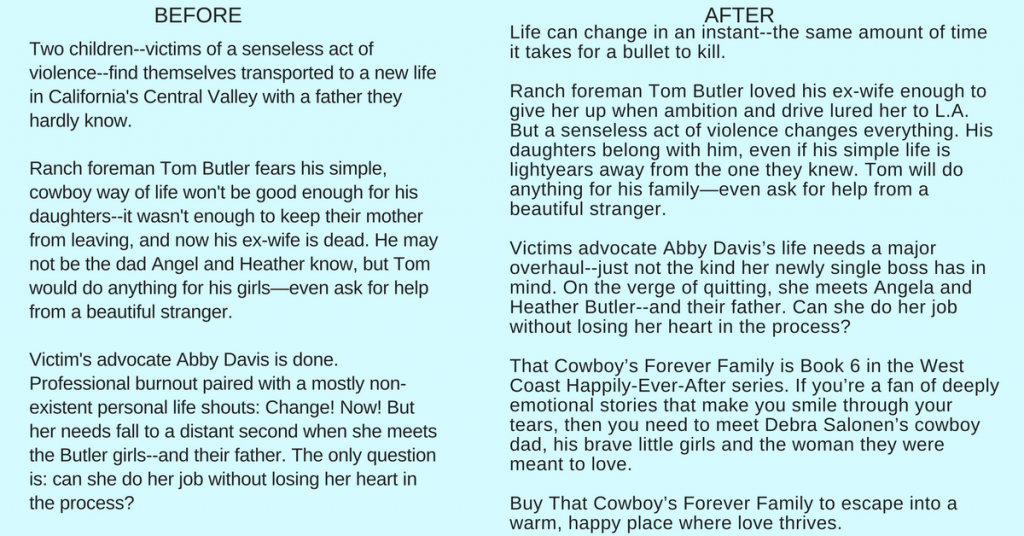 Here's the link if you want to learn more from Bryan Cohen and Abigail Dunard. * Want to see how Abigail Dunard and I write book descriptions? Click here to watch the webinar replay! *
Have a great weekend!
Deb
PS: We're transitioning to a server and this just got moved. After comments, here's my final (for now) blurb.
Life can change in an instant. The same amount of time it takes for a bullet to kill.

Ranch foreman Tom Butler loved his ex-wife enough to let her go when ambition lured her to L.A., but he never stopped loving their two daughters. His rustic lifestyle in the Central Valley added light years to the distance between them until the day tragedy struck. Tom may not be the dad his daughters know, but he'll do anything for his family—even ask for help from a beautiful stranger.

Victims advocate Abby Davis's life needs a major overhaul–just not the kind her newly single boss has in mind. On the verge of quitting, she meets Angela and Heather Butler–and their father. She can't turn her back on two brokenhearted children and their beleaguered father, but can she do her job without losing her heart in the process?

That Cowboy's Forever Family is Book 6 in the West Coast Happily-Ever-After series. If you're a fan of deeply emotional stories that make you smile through your tears, then you can't miss Debra Salonen's cowboy dad, his brave little girls and the woman they were meant to love.

Buy That Cowboy's Forever Family to escape into a warm, happy place where love thrives.